The Lord Trent Trilogy
Coming in 2013!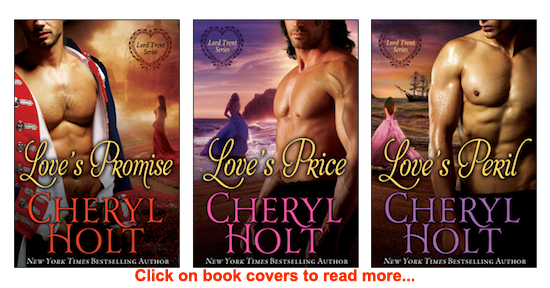 Charles Sinclair, the Earl of Trent, is England's most notorious roué. He never sired any lawful children with his aging, bitter wife. But he has many illegitimate children scattered across the kingdom. His oldest son, Phillip, is on a quest to find his lost half-siblings, to create a family with them and to fix any damage inflicted on their lives by their father's licentious conduct. The three books, LOVE'S PROMISE, LOVE'S PRICE, and LOVE'S PERIL tell the stories of four of Lord Trents lost children.
Finally coming in 2013, Cheryl's long-buried trilogy—three fabulous novels filled with heartbreak, dashing characters, drama, passion, and love—will sweep you away!