Love's Promise (Book 1 — Lord Trent Trilogy)
Now Available!


Reviews for Love's Promise
Before Fifty Shades of Grey was more than just a dim section of the color chart, Cheryl Holt defined the role of the super-sexy, dominant male hero and in her new "Lord Trent" series, that legacy lives on.
Charles Sinclair, the Earl of Trent is an unrepentant libertine who has done his best to help populate England with his illegitimate offspring. His eldest son, Philip has made it his mission in life to track down as many of his half-siblings as he can, to offer them the chance at a better life. The three books in this series—Love's Promise, Love's Price and Love's Peril—tell the stories of four of these found siblings, just as they are embarking on the journey to discover their destined loves.
Of course, with a cast of truly despicable villains lurking in the shadows to impede their journeys the road ahead is not always made smooth by the discovery that they were sired by the notorious Lord Trent.
Cheryl Holt is a genius at creating characters that you love to hate and hate to love in equal measure, but in the end the Hero/Heroine always sees the light and the villains always get their comeuppance in a way that makes you truly believe in karma.
All three books, with the bonus of a double love story in Love's Price, are filled with extraordinary passion—both physical and emotional—that make it difficult to set them aside for any length of time. A true guilty pleasure!
Look for the first book in the Lord Trent series, Love's Promise on May 1st 2013 and don't worry about waiting a year for the story to continue, as books 2 and 3 will be released back to back in June and July.
~ Teresa St. Mary — Novels Alive TV
"A lot of the appeal in Ms. Holt's books is the rocky road to redemption and hopefully love requited. LOVE'S PROMISE has a particularly perilous path to a potential happily ever after. There are numerous wrongs to be answered for and a lot of growing to be done. A lot of living and action is packed into LOVE'S PROMISE; it's busy and occasionally dramatic. I was hooked from the start.
Another favorite is the karma and comeuppance factor. Ms. Holt never stints on the karmic payback for her nasty characters and LOVE'S PROMISE contains some especially gratifying just rewards. LOVE'S PROMISE can't take the number one spot as my favorite by Ms. Holt—that belongs to her book NICHOLAS—but it's currently running a close second."
~ Ivy Truitt, Manic Readers.com
"The book was brilliant...can't wait for Book #2."
~ Harlie, Harlie's Book Reviews
"There are times when you doubt that Fanny and Michael will ever have their happy ending; there are so many obstacles keeping them apart and you on the edge of your seat. But I guarantee you won't want to put this one down. Holt's fast-paced dialogue, paired with the emotional turmoil, will keep you turning the pages all the way to the end."
Susana Ellis, Susana's Parlour
"...A great love story populated with many flawed characters. Highly recommend it."

What fans are saying about LOVE'S PROMISE
"Oh Cheryl! I loved this book. I read it so fast...I couldn't put it down. I don't know how you'll top this with the next in the series, but I'll be ready for the next book!"
— Deb
"I think this might be the best book I ever read by you..."
— Sandy
"This was so different from many of your other books. But better, I think... Maybe the best one so far? Certainly my new favorite."
— Veronica
"I was breathless...blown away..."
— Barbara
"I just finished reading LOVE'S PROMISE. Can't wait for the next one."
— Sarah
"LOVE'S PROMSIE is spectacular! Can't wait for the next one."
— Didi
"Really looking forward to the rest of this series. Great story!"
— Melanie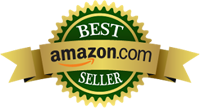 New York Times bestselling author, CHERYL HOLT, will sweep readers away with the first novel in her new and breathtaking 'Lord Trent' trilogy...

With the death of his older brother, Michael Wainwright, Viscount Henley, has become heir to his father, Duke of Clarendon. The Wainwright men are renowned cads, and as his brother's will is read, it's discovered that he sired an illegitimate son and has left the eight-year-old boy his entire fortune. Michael decides to bring the boy to London so he can be showered with all the wealth and status guaranteed by his inheritance. But first, he has to gain custody from the boy's aunt, who is determined to keep her nephew away from Michael's dissolute family.

Frances "Fanny" Carrington has always lived in a small village in the country. As a newborn, she was left in a basket on the church steps and raised by the vicar and his wife. But they've died, and Fanny is in dire straits, struggling to raise her nephew, to keep food on the table and a roof over their heads. When she begins to receive correspondence from Michael, asking for custody, she can't help but be suspicious. For years, the Wainwrights have refused to claim her nephew or provide financial assistance to him. She's alarmed by their sudden interest. What can it mean?

As Michael finally meets Fanny, their attraction is swift, blatant, and dangerous. He can't fight the need to have her at any cost, and gradually, he lures her into his decadent life of affluence and privilege. But she's never possessed the callous nature required to thrive in the cut-throat world of the aristocracy, so she could never understand the peril she faces from those who would do anything to keep them apart...

"...a master writer..."
—Fallen Angel reviews

"Best storyteller of the year..."
—Romantic Times Magazine

Fan Quotes

"I loved this books..."

— Stephanie

"This book was brilliant..."

— Susan
Letters Between Viscount Henley and Fanny Carrington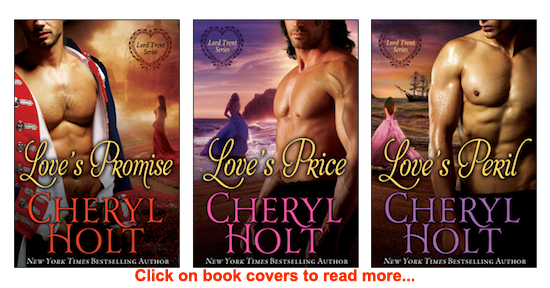 Charles Sinclair, the Earl of Trent, is England's most notorious roué. He never sired any lawful children with his aging, bitter wife. But he has many illegitimate children scattered across the kingdom. His oldest son, Phillip, is on a quest to find his lost half-siblings, to create a family with them and to fix any damage inflicted on their lives by their father's licentious conduct. The three books, LOVE'S PROMISE, LOVE'S PRICE, and LOVE'S PERIL tell the stories of four of Lord Trents lost children.