Burning Up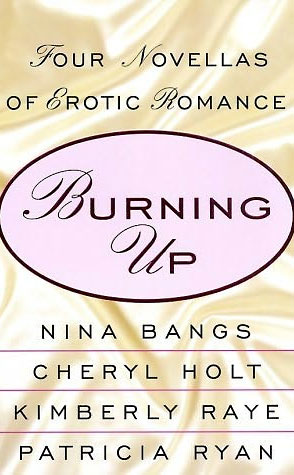 CHERYL HOLT: "The Wedding Night"
Blushing bride Ellen Foster shocks her new husband, the Viscount Banbury, just hours after they enter a marriage of convenience when she turns their chaste marital bed chamber into a den of sensual pleasure…
NINA BANGS: "The Flame"
Museum curator Serenity So-Fine has traveled back in time from the year 2700 to retrieve the infamous erotic sculpture, The Flame. But the work's sensual creator, Justin Hill, is about to take Serenity to places even she's never been…
KIMBERLY RAYE: "Burn, Inc."
As the producer of erotic films for women, Gerry Baxter knows the business of sex — even though she hasn't had a date in five years! But all that changes when a case of mistaken identity leads to astonishing pleasure…an unexpected encounter that puts Gerry's own movies to shame.
PATRICIA RYAN: "Possessing Julia"
Widow Julia Hughes is to marry in two weeks time — and her new husband must never know she's still a virgin. Her scandalous solution: to lose her virginity before the wedding. But the handsome man she hires for the job intends to teach her a few things along the way — in a series of delightful lessons she'll never forget!