Cad's Wish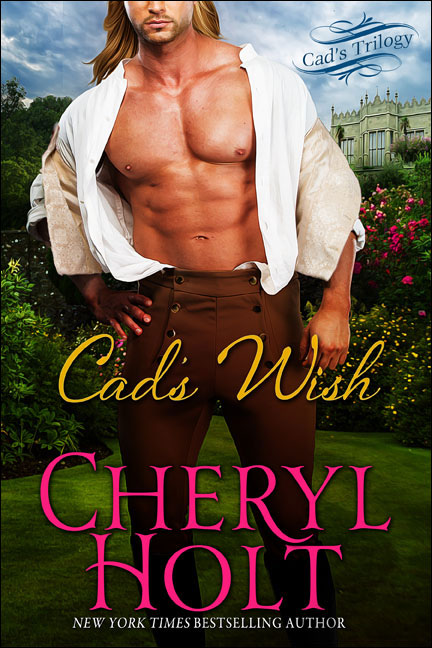 New York Times bestselling author, Cheryl Holt, delivers her new and dazzling 'CADS' trilogy, three lush novels filled with drama, heartache, and love forevermore…
Hunter Stone is London's most notorious cad. He's lived a life of debauchery and vice, and he's the most dedicated bachelor in the kingdom. He's renowned for his wicked ways, and he always has a beautiful woman on his arm to keep him company. But when his father suddenly inherits the family's earldom—an elevation that was completely unexpected—Hunter is next in line to be earl. He has to marry quickly to secure the title and inheritance. What's a cad supposed to do?
Hannah Graves is a modern, independent young woman. She thinks men are fools and idiots, and she's decided to avoid the path to matrimony that most females are forced to walk. When her father died and left her a small inheritance, she fled her rural life in the country and used the money to open a bookshop in London. She's proud of herself and delighted with the strong choices she'd made, but it's not easy to be a female proprietor in a man's world, and she constantly dances on the edge of fiscal ruin.
When Hannah meets Hunter, sparks fly and passion ignites. But Hunter's corrupt reputation precedes him, and he represents everything she detests in a male. But he's a handsome, wealthy scoundrel who always gets exactly what he wants. When he sets his eye on Hannah, how can she resist?
*         *          *          *
Cads make the very best husbands…
*         *          *          *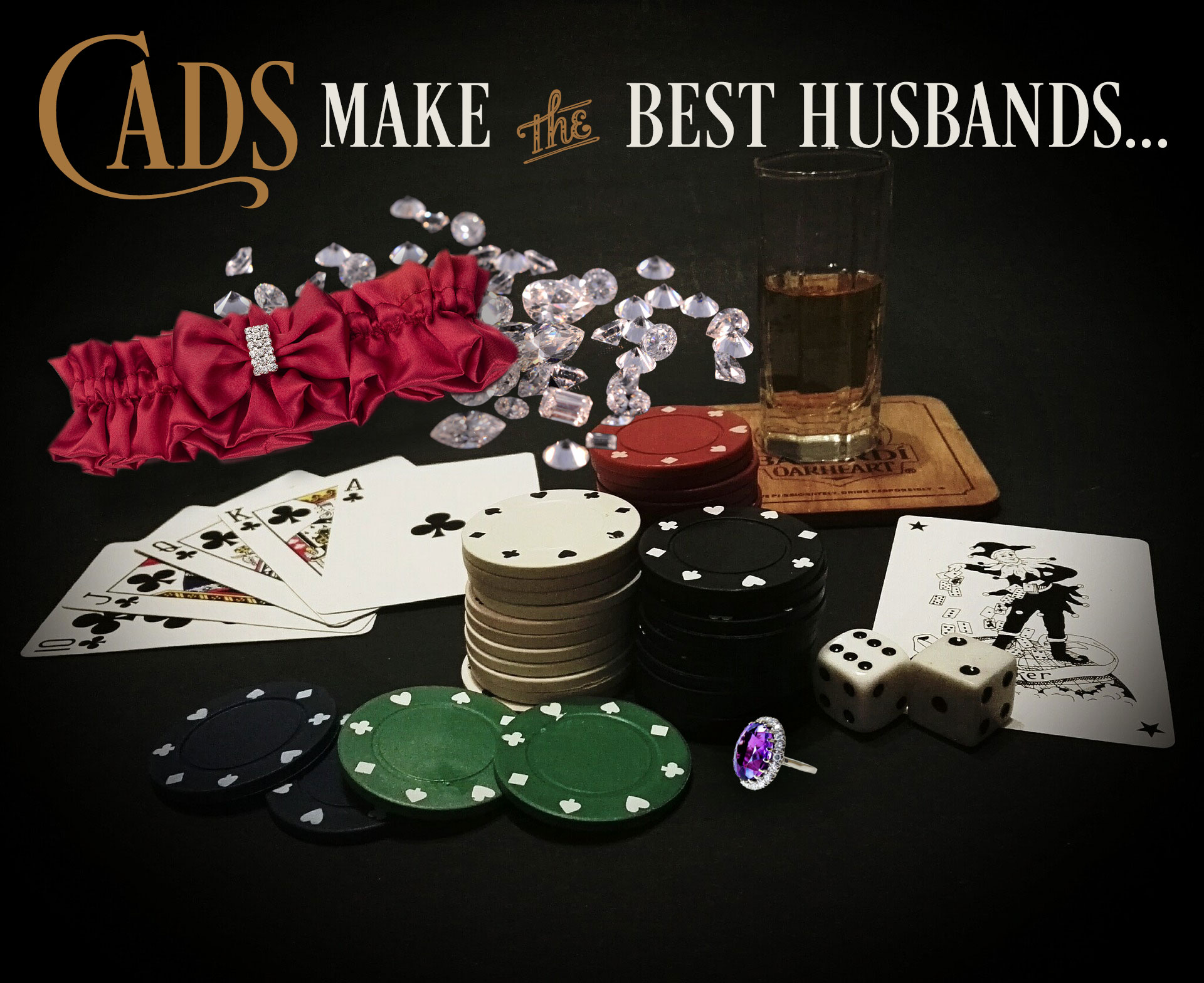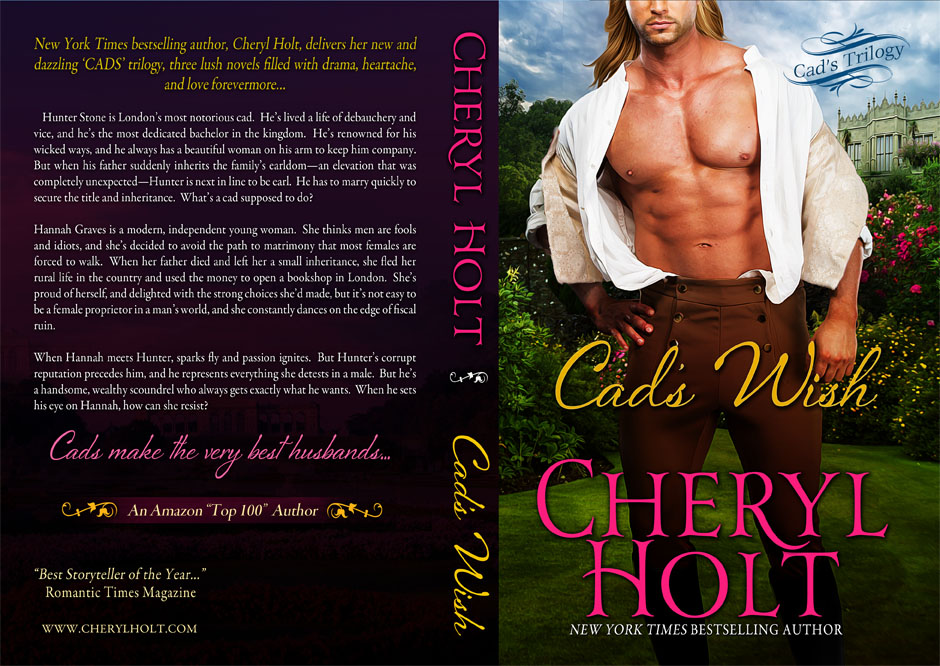 "Okay. OKAY. I see you, Cheryl Holt. Point made and received, check and mate. I am officially a fan of historical romance.
As well as Hunter Stone. (Sorry, Husband.) (Give me just a sec to compose myself, Friends…)
I had the absolute most fun with this novel! The story begins with Neville, a father with a penchant for being a bit of a rogue, having a sit-down with his son, Hunter. Neville explains to Hunter that carrying on the family title now falls to Hunter, and that it is time to marry. Neville feels that he has found someone who will be good match for Hunter, and that Hunter is duty-bound to marry this woman. Hunter, who has himself a new mistress (or three) each week, is less than thrilled at this announcement, and waits in dread to meet the church-mouse that his father has selected for him.
Far from his expectations however, is Hannah; an independent, spirited woman, who manages her own business and thinks men are less-than-intelligent. Or loyal. Or worth her time. Needless to say, Hannah is not happy about being thrown into a marriage with a reputed, and self-confessed, cad.
While neither are excited about their new situation, both of them are interested. Or at least curious, much to their surprise. I greatly enjoyed getting to know Hannah. I am a sucker for a strong, female lead, and Hannah did not disappoint. I loved her heart and her grit. She was impossible not to cheer for, and even more impossible not to relate to. And Hunter! I quite honestly expected myself to spend the entire book with maybe only a grudging respect for the man. What I didn't expect was how very much that I would like him. Beyond the reputation, the rough exterior and the jaded outlook on life was a wonderfully strong, gentle, loyal man. And I loved his relationship with Hannah instantly. The secondary cast was awesome as well, adding their own contributions to the story.
Bottom Line: Let me introduce you to the fast-paced, thrilling, impeccably written love-child of Downton Abbey and Bridgerton."  ~ Pursuing Stacie
---
"I loved this book! The Male MC is a cad, but an honest one. Narcissistic, but loyal and fierce with honor and strong ideals. The female MC breaks the mold in a time period where women were seen as broodmares and/or damsels to swoon at men, especially those with money.
There is just something of a strong-willed woman "taming" a wild bachelor; bringing out the best in him by not giving in to his demands. There is betrayal, secrecy, marriage contracts, mistresses, and much more to entice you into the world of the The Stone men as they meet their matches.
Even though the cover makes me giggle (and think of "bodice-rippers"), I think it just adds to the whole feel of the book. If you are fan of historical romances like the Bridgerton series, then this book will make you fall in love with the genre even more! I can't wait to read book two in this series, Cad's Pick." ~ booking.with.janelle
---
"This was a nice, fun romance novel! It was entirely predictable in the perfect way. You know those days when you just want something that you know you'll like? It's like the comfort food version of a book! I'd recommend this for exactly that scenario if you love a good historical romance novel!
This book tells the story of Hannah and Hunter. One thing I really appreciated about this book is that their relationship feels like one of equals, and Hannah is never afraid to call Hunter out!"  ~  Across the Sky in Stars
---
"Cad's Wish is an entertaining romance that gives you everything you expect in the genre and is a delightful start to the series.
What I primarily liked about the story is the characters and their connections. The story has quite a large cast of characters, and it was interesting to see how they all connected and intermingled. I liked the father-son bond between Hunter and Neville, even if they got on each other's nerves most of the time. There were also side characters like Amelia and Winston, who I found fascinating. While I did not like them at the beginning of the story, my opinion changed later.
The prime romance of the story is Hunter and Hannah, and the author wrote them nicely. Albeit a bit cliched, it was nevertheless fun to see how they met each other. I also enjoyed the bookshop being the backdrop of their romance. Speaking of the bookshop, the author also adds bits of action and excitement when there is a fire, and Hannah's opinion of Hunter changes. I liked Hunter in the lead and thought he was dynamic. It was interesting to see how his perception of marriage changed throughout the story as he gets involved with Hannah.
However, at times I felt as though there were too many characters on canvas. For instance, I felt people like Nate and Marston were unnecessary to the plot and served only as page fillers.
Overall, "Cad's Wish" is a fun start to the "Cads" trilogy, and I look forward to reading the rest of the series." ~ Rajiv's Reviews
---
"Okay. OKAY. I see you, Cheryl Holt. Point made and received, check and mate. I am officially a fan of historical romance.

As well as Hunter Stone. (Sorry, Husband.) (Give me just a sec to compose myself, Friends…)

I had the absolute most fun with this novel! The story begins with Neville, a father with a penchant for being a bit of a rogue, having a sit-down with his son, Hunter. Neville explains to Hunter that carrying on the family title now falls to Hunter, and that it is time to marry. Neville feels that he has found someone who will be good match for Hunter, and that Hunter is duty-bound to marry this woman. Hunter, who has himself a new mistress (or three) each week, is less than thrilled at this announcement, and waits in dread to meet the church-mouse that his father has selected for him.

Far from his expectations however, is Hannah; an independent, spirited woman, who manages her own business and thinks men are less-than-intelligent. Or loyal. Or worth her time. Needless to say, Hannah is not happy about being thrown into a marriage with a reputed, and self-confessed, cad.

While neither are excited about their new situation, both of them are interested. Or at least curious, much to their surprise. I greatly enjoyed getting to know Hannah. I am a sucker for a strong, female lead, and Hannah did not disappoint. I loved her heart and her grit. She was impossible not to cheer for, and even more impossible not to relate to. And Hunter! I quite honestly expected myself to spend the entire book with maybe only a grudging respect for the man. What I didn't expect was how very much that I would like him. Beyond the reputation, the rough exterior and the jaded outlook on life was a wonderfully strong, gentle, loyal man. And I loved his relationship with Hannah instantly. The secondary cast was awesome as well, adding their own contributions to the story.

Bottom Line: Let me introduce you to the fast-paced, thrilling, impeccably written love-child of Downton Abbey and Bridgerton."  ~ Pursuing Stacie

---

"I loved this book! The Male MC is a cad, but an honest one. Narcissistic, but loyal and fierce with honor and strong ideals. The female MC breaks the mold in a time period where women were seen as broodmares and/or damsels to swoon at men, especially those with money.

There is just something of a strong-willed woman "taming" a wild bachelor; bringing out the best in him by not giving in to his demands. There is betrayal, secrecy, marriage contracts, mistresses, and much more to entice you into the world of the The Stone men as they meet their matches.

Even though the cover makes me giggle (and think of "bodice-rippers"), I think it just adds to the whole feel of the book. If you are fan of historical romances like the Bridgerton series, then this book will make you fall in love with the genre even more! I can't wait to read book two in this series, Cad's Pick." ~ booking.with.janelle

---

"This was a nice, fun romance novel! It was entirely predictable in the perfect way. You know those days when you just want something that you know you'll like? It's like the comfort food version of a book! I'd recommend this for exactly that scenario if you love a good historical romance novel!

This book tells the story of Hannah and Hunter. One thing I really appreciated about this book is that their relationship feels like one of equals, and Hannah is never afraid to call Hunter out!"  ~  Across the Sky in Stars

---

"Cad's Wish is an entertaining romance that gives you everything you expect in the genre and is a delightful start to the series.

What I primarily liked about the story is the characters and their connections. The story has quite a large cast of characters, and it was interesting to see how they all connected and intermingled. I liked the father-son bond between Hunter and Neville, even if they got on each other's nerves most of the time. There were also side characters like Amelia and Winston, who I found fascinating. While I did not like them at the beginning of the story, my opinion changed later.

The prime romance of the story is Hunter and Hannah, and the author wrote them nicely. Albeit a bit cliched, it was nevertheless fun to see how they met each other. I also enjoyed the bookshop being the backdrop of their romance. Speaking of the bookshop, the author also adds bits of action and excitement when there is a fire, and Hannah's opinion of Hunter changes. I liked Hunter in the lead and thought he was dynamic. It was interesting to see how his perception of marriage changed throughout the story as he gets involved with Hannah.

However, at times I felt as though there were too many characters on canvas. For instance, I felt people like Nate and Marston were unnecessary to the plot and served only as page fillers.

Overall, "Cad's Wish" is a fun start to the "Cads" trilogy, and I look forward to reading the rest of the series." ~ Rajiv's Reviews

---