Jilted by a Scoundrel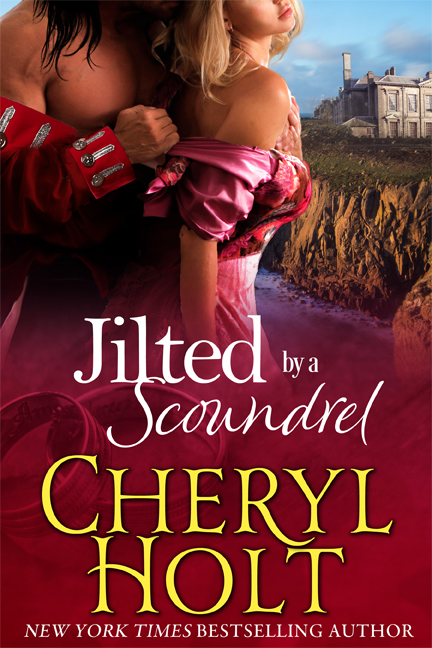 Book #2 of the Jilted Brides Trilogy
CHERYL HOLT continues to delight readers with the thrilling, dramatic second novel in her Jilted Brides trilogy…
Winifred Watson grew up as the only daughter of a decorated war hero.  When he died suddenly, she was shocked to learn that he was bankrupt and she lost everything to pay his final debts.  She'd hoped to wed her fiancé—a steady, handsome man who would have guided her through the tumult of her father's death.  But when her penury was revealed, her fickle betrothed jilted her at the altar. His treacherous conduct pitched her into a downward spiral that she can't seem to halt…
John Dunn escaped his dreary home by joining the army when he was sixteen.  He loved his years as a soldier and planned to dedicate the remainder of his life to King and country.  But he was swept into a scandal and drummed out of the service. He's returned to his family's isolated, dreary castle on the Cornwall coast, but it's the one spot on the globe he vowed to never visit again.  He's bitter, raging, and eager for a diversion from his pathetic situation…
When Winifred arrives, demanding shelter and assistance, John isn't inclined to provide any help.  But she's pretty, intriguing, and in desperate need of a knight in shining armor. How can he resist?
* * * * *
JILTED at the altar!  The worst humiliation of all…
* * * * *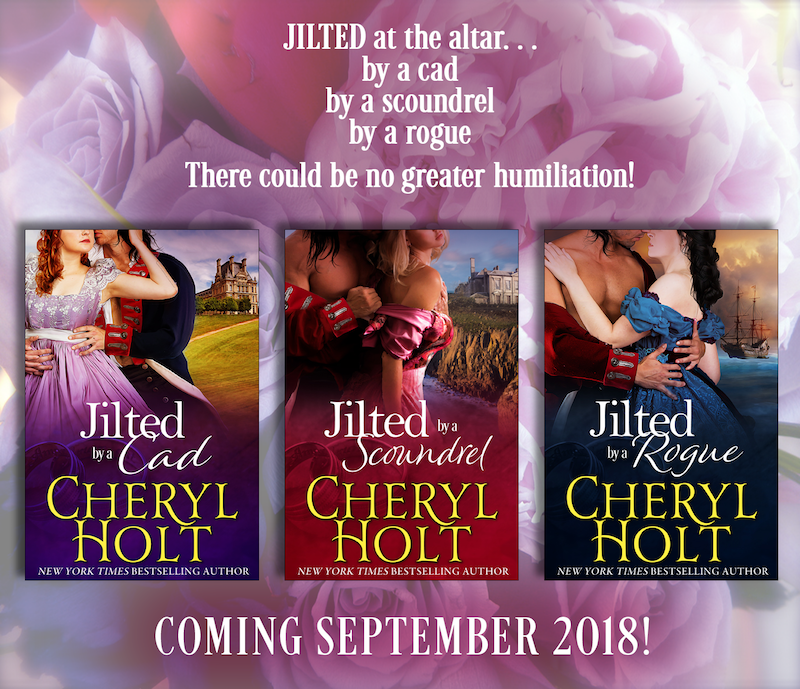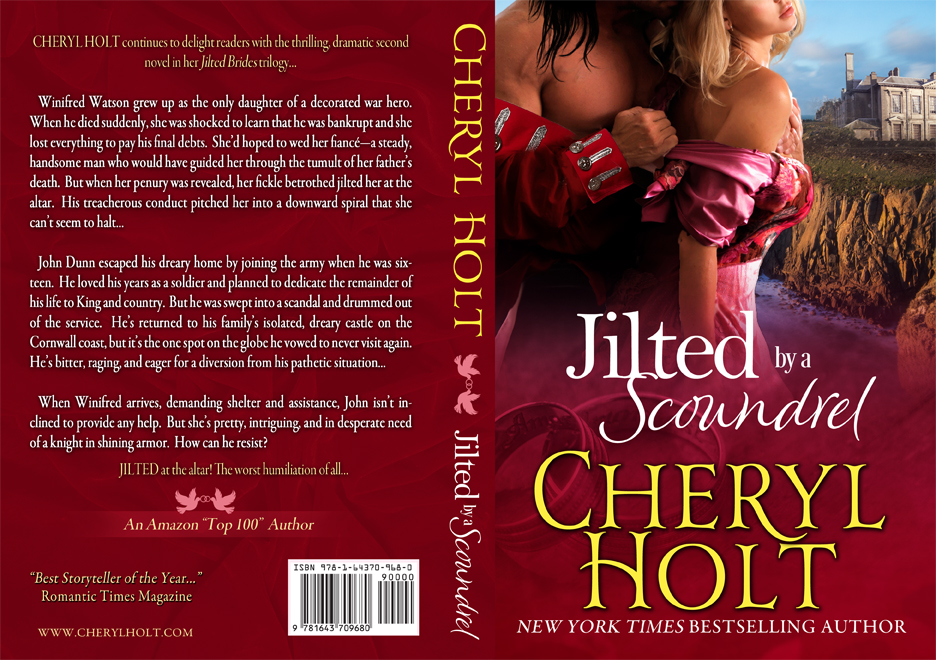 PROLOGUE
"You look lovely."
"Thank you."
Winifred Watson, called Winnie by her acquaintances, smiled wanly at her fiancé, Holden Cartwright.  His comment was appreciated, but he was being gracious rather than truthful.  He was trying to cheer her, but he hadn't succeeded.
They were seated side by side in his carriage, but before leaving her house for the church, she'd dawdled in front of the mirror to assess her pathetic condition.
It was her wedding day, so she was wearing her prettiest blue gown, the matching slippers that went with it.  As adornment, she'd added the sapphire necklace and earrings her father had previously given her as a birthday gift.
Her blond hair was curled and braided, and her maid had weaved flowers from the garden into it.  Outwardly, she appeared fetching and elegant, like the daughter of the rich gentleman she'd grown up assuming herself to be, but the gown and the styled hair couldn't conceal the worry in her blue eyes or the pallor in her cheeks.
Her father—famous and renowned army veteran, Sir Walford Watson—had died three weeks prior, and since then, anxiety had been her constant companion.  It was taking a definite toll.  Her mother had died too, when she was a baby, and she didn't have any siblings.  There was just a distant cousin, and that was the extent of her relatives, so she didn't have any intimate associates to advise her during such a painful period.
There were only lawyers and bankers, and they never delivered any good news.
Fortunately, she had Holden standing with her, so she wasn't alone.
With her being seventeen, she and Sir Walford had originally decided to wait a few years before they started pursuing suitors and matrimony for her, but Holden had burst into their life and changed their minds.
Holden was fun and charming, handsome and interesting, and theirs had been a whirlwind romance.  They could have wallowed in a lengthy, pointless courtship, but when they were so attuned, it was ridiculous to delay.
Her father had agreed, and when Holden had proposed, he'd acquiesced immediately.  She was glad and grateful that he'd bound Holden to her.  After he'd dropped dead at his favorite club in London, Holden had been her rock, an anchor who'd provided steadfast support so she wasn't adrift.
To her great relief, he'd suggested they move up the wedding.  Sir Walford had been such a vibrant, commanding figure, and she couldn't imagine how she'd carry on without him.  She was eager to attach herself to Holden, to let him be in charge—as her father had always been in charge.
Holden was nearly a decade older than she was, and he was prudent, wise, and very mature.  He had strong shoulders that she could lean on as she maneuvered to the end of her dreadful ordeal.
"Are you ready?" he asked.
"Yes," she replied.  "Are you?"
"I've been ready for this forever."
She felt exactly the same.  From the instant they'd met, it had seemed as if Fate had brought them together, and with Sir Walford's premature demise, he'd arrived when she needed him the most.
"You're about to be Mrs. Holden Cartwright," he said.  "I can hardly believe it."
"Your bachelor days are over, Mr. Cartwright.  What do you think of that?"
"I think I'm very lucky."
He dipped in and kissed her on the cheek, and she smiled again, this one firmer and more robust.
"I'm happy," she said.  "Is it wrong that I am?"
He scoffed.  "No, Winnie.  You're allowed to be happy today."
"Father is so recently buried.  It seems…inappropriate, I guess."
"Sir Walford wouldn't like you to be sad at your wedding."
"It's what I keep telling myself.  Do you suppose he'll be watching from Heaven?"
"I'm sure he will be."
Holden patted her hand in a gentle way that made her want to weep.
They were in London, at Holden's church.  He'd convinced his vicar to perform a quick ceremony, and he'd obtained a Special License so they could hold it at once.  Winnie was a bit irked by the swiftness with which she'd become a bride, and by the venue where it would occur, but it was silly to be annoyed.
She was an adult now, and she could have countered any of his ideas, but in her present morose state, it was easier to consent rather than bicker.  It was just that Sir Walford's death had left her dizzy and disoriented, as if the world was spinning too fast and she couldn't find her balance.  She was certain—after the vows were spoken and she had a ring on her finger—her perception of vertigo would pass.
Yet she couldn't deny she'd have liked to marry at her village in the country, at the church where she'd attended services ever since she was a little girl, but her vicar was very traditional, and he'd balked at the prospect of a hasty wedding.
He'd angrily counseled her to exhibit the proper respect for her beloved father, to spend a full year in mourning as was required of a daughter.  He'd declined to officiate unless the correct processes were observed.  Winnie and Holden couldn't bear to wait, so they were in London and about to tie the knot in front of strangers.
There would be no neighbors or servants sitting in the pews, no grinning cousins or decrepit aunties nodding their approval as she walked down the aisle.  And of course, there would be no Sir Walford to escort her to her husband.
There would just be her and Holden and no one else.  His family lived in Scotland, so there had been no time for any of them to travel to England.
"It's almost eleven," he said.  "The vicar is probably wondering where we are."
He reached for the door, but she stopped him.
"I need a minute more," she said.  "I have to confide something grim, and it's difficult."
He studied her, his gaze sympathetic.  "What is it, Winnie?  You look positively deflated."
"I'm sorry, but I've had some awful news from Mr. Dobson."
He groaned.  "That old codger?  I told you to ignore him."
Mr. Dobson was her father's banker, and she'd had several tense, frightening meetings with him.  He'd brusquely shattered her illusions about the future.  Initially—with massive encouragement from Holden—she'd derided his stories about her fiscal situation, but she wasn't a dunce.  She'd received an excellent education, and she couldn't argue with hard numbers.
She and her father had carried on like royalty, and she'd been raised like a princess.
Sir Walford had earned his fortune while in the army in India.  He'd been a national hero who'd committed many famous exploits, and he'd taken advantage of his position and renown.  He'd acted as if his wealth was unlimited, but he didn't have a good head for money, and he hadn't noted how rapidly it was being frittered away.
Mr. Dobson had constantly warned him to behave better, but the advice had been disregarded.  For decades, Sir Walford had staved off an economic reckoning by borrowing and mortgaging—over and over—until there wasn't a single possession left unencumbered.
He'd died penniless, so she was penniless too.  Even her dowry—the one Holden was expecting to be his—was squandered.  There would have to be an estate sale with every item—right down to the forks in the drawers—sold to square Sir Walford's debts.
Holden was aware of Mr. Dobson's scathing attitude about her father, and he'd mocked the dire tidings and declared Dobson an elderly worrywart.  Because she'd been desperate to believe Holden over Mr. Dobson, she'd latched on to his derision and had adopted it for her own.  But she couldn't continue to pretend.
She should have visited Holden the prior evening to reveal the enormity of the debacle.  Or when he'd arrived at her town home to convey her to the chapel, she should have bluntly explained.  She was a coward though and had been terrified to confess her reality, terrified he would cry off.  Then where would she be?
Holden was very fond of her, wasn't he?  He always claimed he was, and she had no reason to suppose he wasn't sincere in his affection.  Circumstances couldn't dampen their bond.  He wouldn't leave her in the lurch merely because she was suffering financial difficulties.
"I should have talked to you about this back at the house," she said.
"Well, we're talking now.  Supply me with the shortened version so we can get inside.  I refuse to miss my own wedding."
It was just the type of comment she was anxious to hear.  "My appointment with Mr. Dobson was very disconcerting."
"I wish you wouldn't let him upset you.  He's not worth it, Winnie, and you shouldn't have met with him alone.  I won't have him browbeating you when I'm not there."
"He's been telling me the truth, Holden.  He brought in some men who showed me their ledger books.  I'm going to lose everything."
Time seemed to halt as he froze, his expression confused as if she was babbling in a foreign language he didn't understand.
"Define everything," he ultimately said.
"Sir Walford was a gambler who borrowed and spent what he didn't have.  He had numerous huge mortgages, and because of his reputation, the bank allowed his payments to lapse, but now that he's deceased, they're finished being generous.  They want their money, and they intend to foreclose."
"You're his daughter!" Holden huffed.  "What are they planning?  Will they kick you out on the road?"
"I'm afraid they might."
"Don't be ridiculous," he firmly stated.  "No one will kick you out.  I'll speak to Dobson in the morning and fix this straight away."
"I doubt you can.  He was quite adamant."
"What about your dowry?  We'll still have that, won't we?  It's a substantial sum, so we don't need the house or the property.  They can take it all and good riddance.  We'll be fine on those funds."
She glanced away, her cheeks heating with shame.  "I've never had a dowry, Holden.  My father never created one for me."
"Why was he always bragging about the size of it?"  He scowled ferociously.  "I won't accept such a false narrative.  This is Sir Walford we're discussing.  He wouldn't have behaved that way toward you—and Dobson is a liar."
"Please tell me this doesn't matter to you," she said.  "I'm so scared you'll forsake me."
"I could never forsake you, Winnie.  Let's go in and repeat our vows, and you'll learn how committed I am."
"All right."
Tears flooded her eyes, and he drew a kerchief from his coat and dabbed at them.  She was calmed by the gesture, relieved by the gesture.  He would guide her through the approaching months and years, and his unwavering devotion would make the pummeling seem less severe.
Besides, the loss of her assets wasn't exactly a calamity.  His family was rich, and his brother had his own estate across the border in Scotland.  If worse came to worst, they could travel north and stay with him for a bit until they sorted out her fiscal predicament.  She needn't worry.
Holden climbed out of the carriage, and he reached up and helped her out too.  The day had started out cloudy and rainy, but the sky had cleared, and it was sunny and bright.
In his gray wedding suit, he looked handsome and dapper.  His golden-blond hair appeared to glow, and his green eyes were sensitive and warm.  He stared at her as if she was beautiful and marvelous, and she was swamped by a burning sensation that things would work out for the best.
"Are you ready?" he asked as he had earlier.
"Yes, I'm ready."
"No more tears.  Promise?"
"No more tears."
They walked over to the church, and as she scooted into the dark vestibule, he casually inquired, "Are you sure Mr. Dobson was correct about the dowry?"
"Yes, he was very sure."
He chuckled.  "Well, then, I am sure he's insane, and I hate that he alarmed you so hideously."
They peered around, their vision adjusting in the dim light.  The vicar was up by the altar.  He waved at them, and Holden waved back.
"Oh, Winnie," he suddenly said, "I have a surprise for you, but I left it in the carriage."
"What is it?"
He grinned.  "If I told you, it wouldn't be a surprise, would it?"
"No, I suppose not."
"Give me a second to fetch it for you."
"Hurry, please.  I don't want to keep the vicar waiting."
"I wouldn't dream of it."
He urged her into the rear pew, then he winked and strolled outside.
She peeked over her shoulder to watch him leave, the door slowly swinging shut behind him.  And she continued to watch, for a minute—then another and another and another and another—but he never returned.
Eventually, she stood and went out to discover what had delayed him, but the carriage was gone—and he was gone.
She never saw him again.
Three years later…
Review: This is the second in Ms. Holt's series on Jilted Brides and just as delightful as the first. I really enjoyed finding a new/old author. I had forgotten how much I liked Ms. Holt.  In the second installment we get to learn more about Winifred, Winnie to her friends; the governess for the children born out of wedlock by Peyton Prescott's brother.
Winnie ventures out to find the relatives of one of her charges along with a half- brother in need of a home also. Her adventure takes her to a small island off of the coast of Scotland, Dunn Island. There she is on a quest to find her charge's uncle, Lord John Dunn. John wants nothing to do with Winnie and the children.
To me I liked John and all his surliness. He brought some realism to the story as the dialogues between him and Winnie was often filled by bickering back and forth. Much as most couples in long relationships do at times. Even though this was a somewhat short relationship it added a bit of depth to the story.  John was kind of a dolt at first but he began to grow on you after a while.
John was Winnie's last hope for the children and actually she is included. I liked Winnie's feistiness as she pleaded her case to John. I could see John liked it also. It I think won him over.
Winnie's wiliness to travel to find a home with family for these children made her very endearing to me. She was brave and very strong. I was touched by her character. She became very real to me. Also, as John started to feel the chemistry between them he became a character that you could feel for also. He had secrets…he wanted to start smuggling in order to pay off debts. But, he wanted Winnie and the children off of the island so they wouldn't be involved. This helped in making John a likable character.
Overall this was another entertaining story with characters you fall in love with and they become family. This can be read alone but I think it worked better as a continuation of the first book in the Series Jilted by a Cad.
The slow spark between these two will have you wanting to find out if Winnie finally gets her HEA.  A great read with wonderful characters…
~ Reviewed by Robin with Romancing the Book | http://romancing-the-book.com/2018/10/review-jilted-by-a-scoundrel-by-cheryl-holt.html
"I am glad you gave Winifred Watson a book of her own, because in Book 1, JILTED BY A CAD, we met her briefly, and I liked her enough to want her to get her own story.
Winnie loved Bobby and Jane (I loved both of these kids too) enough to take them across the country to Jane's uncle rather than see anything else happen to them.  Hero, John Dunn, was someone whose pride was still smarting at being kicked out of the military and was still dealing with a wound that had almost killed him and forced him back to a place where he was a virtual stranger.
I think that Winnie was just what John needed and he was just what she needed.  She was alone in the world since her father had died and her world had been shaken up first by her father dying, then finding out that he was bankrupt, then by [her fiance] Holden leaving her at the altar.
The villainness, Melvina, was mad as a hatter, and a cruel person to boot.  I was glad to see what happened to her.
I loved it when Bobby told John that Winnie didn't do well on her own.  This boy had grown up at Benton, treated as nothing more than the Earl's by-blow  but at Dunworthy. he was given a role of importance.  He thought his most important role was to take care of Jane and Winnie.  Jane was a lot like Daisy [from Book 1] when she had to be.  She's a sweet little girl who found her voice at Dunworthy.
I think it's great that  the women in all 3 of the Jilted books had disastrous run-ins with Holden Cartwright.  I am interested to see if he gets what is coming to him in the end.
I'm on to Book 3, JILTED BY A ROGUE.  I am interested to read about Amelia and the man you paired her with, James, and also to see if there's a villain who messes with her–or both of them. The first 2 books in this series didn't disappoint so I doubt that the conclusion of the series will."
~ Susan…
---
"I just had to let you know, I just finished the "Jilted" trilogy.  It was FABULOUS! I laughed, I cried, I got angry and I smiled.  I waited until I knew I had a few days to myself to just read and I started Thursday night and finished about an hour ago.  I was never disappointed. Thank you so much for making my weekend."
~Robin
PROLOGUE

"You look lovely."

"Thank you."

Winifred Watson, called Winnie by her acquaintances, smiled wanly at her fiancé, Holden Cartwright.  His comment was appreciated, but he was being gracious rather than truthful.  He was trying to cheer her, but he hadn't succeeded.

They were seated side by side in his carriage, but before leaving her house for the church, she'd dawdled in front of the mirror to assess her pathetic condition.

It was her wedding day, so she was wearing her prettiest blue gown, the matching slippers that went with it.  As adornment, she'd added the sapphire necklace and earrings her father had previously given her as a birthday gift.

Her blond hair was curled and braided, and her maid had weaved flowers from the garden into it.  Outwardly, she appeared fetching and elegant, like the daughter of the rich gentleman she'd grown up assuming herself to be, but the gown and the styled hair couldn't conceal the worry in her blue eyes or the pallor in her cheeks.

Her father—famous and renowned army veteran, Sir Walford Watson—had died three weeks prior, and since then, anxiety had been her constant companion.  It was taking a definite toll.  Her mother had died too, when she was a baby, and she didn't have any siblings.  There was just a distant cousin, and that was the extent of her relatives, so she didn't have any intimate associates to advise her during such a painful period.

There were only lawyers and bankers, and they never delivered any good news.

Fortunately, she had Holden standing with her, so she wasn't alone.

With her being seventeen, she and Sir Walford had originally decided to wait a few years before they started pursuing suitors and matrimony for her, but Holden had burst into their life and changed their minds.

Holden was fun and charming, handsome and interesting, and theirs had been a whirlwind romance.  They could have wallowed in a lengthy, pointless courtship, but when they were so attuned, it was ridiculous to delay.

Her father had agreed, and when Holden had proposed, he'd acquiesced immediately.  She was glad and grateful that he'd bound Holden to her.  After he'd dropped dead at his favorite club in London, Holden had been her rock, an anchor who'd provided steadfast support so she wasn't adrift.

To her great relief, he'd suggested they move up the wedding.  Sir Walford had been such a vibrant, commanding figure, and she couldn't imagine how she'd carry on without him.  She was eager to attach herself to Holden, to let him be in charge—as her father had always been in charge.

Holden was nearly a decade older than she was, and he was prudent, wise, and very mature.  He had strong shoulders that she could lean on as she maneuvered to the end of her dreadful ordeal.

"Are you ready?" he asked.

"Yes," she replied.  "Are you?"

"I've been ready for this forever."

She felt exactly the same.  From the instant they'd met, it had seemed as if Fate had brought them together, and with Sir Walford's premature demise, he'd arrived when she needed him the most.

"You're about to be Mrs. Holden Cartwright," he said.  "I can hardly believe it."

"Your bachelor days are over, Mr. Cartwright.  What do you think of that?"

"I think I'm very lucky."

He dipped in and kissed her on the cheek, and she smiled again, this one firmer and more robust.

"I'm happy," she said.  "Is it wrong that I am?"

He scoffed.  "No, Winnie.  You're allowed to be happy today."

"Father is so recently buried.  It seems…inappropriate, I guess."

"Sir Walford wouldn't like you to be sad at your wedding."

"It's what I keep telling myself.  Do you suppose he'll be watching from Heaven?"

"I'm sure he will be."

Holden patted her hand in a gentle way that made her want to weep.

They were in London, at Holden's church.  He'd convinced his vicar to perform a quick ceremony, and he'd obtained a Special License so they could hold it at once.  Winnie was a bit irked by the swiftness with which she'd become a bride, and by the venue where it would occur, but it was silly to be annoyed.

She was an adult now, and she could have countered any of his ideas, but in her present morose state, it was easier to consent rather than bicker.  It was just that Sir Walford's death had left her dizzy and disoriented, as if the world was spinning too fast and she couldn't find her balance.  She was certain—after the vows were spoken and she had a ring on her finger—her perception of vertigo would pass.

Yet she couldn't deny she'd have liked to marry at her village in the country, at the church where she'd attended services ever since she was a little girl, but her vicar was very traditional, and he'd balked at the prospect of a hasty wedding.

He'd angrily counseled her to exhibit the proper respect for her beloved father, to spend a full year in mourning as was required of a daughter.  He'd declined to officiate unless the correct processes were observed.  Winnie and Holden couldn't bear to wait, so they were in London and about to tie the knot in front of strangers.

There would be no neighbors or servants sitting in the pews, no grinning cousins or decrepit aunties nodding their approval as she walked down the aisle.  And of course, there would be no Sir Walford to escort her to her husband.

There would just be her and Holden and no one else.  His family lived in Scotland, so there had been no time for any of them to travel to England.

"It's almost eleven," he said.  "The vicar is probably wondering where we are."

He reached for the door, but she stopped him.

"I need a minute more," she said.  "I have to confide something grim, and it's difficult."

He studied her, his gaze sympathetic.  "What is it, Winnie?  You look positively deflated."

"I'm sorry, but I've had some awful news from Mr. Dobson."

He groaned.  "That old codger?  I told you to ignore him."

Mr. Dobson was her father's banker, and she'd had several tense, frightening meetings with him.  He'd brusquely shattered her illusions about the future.  Initially—with massive encouragement from Holden—she'd derided his stories about her fiscal situation, but she wasn't a dunce.  She'd received an excellent education, and she couldn't argue with hard numbers.

She and her father had carried on like royalty, and she'd been raised like a princess.

Sir Walford had earned his fortune while in the army in India.  He'd been a national hero who'd committed many famous exploits, and he'd taken advantage of his position and renown.  He'd acted as if his wealth was unlimited, but he didn't have a good head for money, and he hadn't noted how rapidly it was being frittered away.

Mr. Dobson had constantly warned him to behave better, but the advice had been disregarded.  For decades, Sir Walford had staved off an economic reckoning by borrowing and mortgaging—over and over—until there wasn't a single possession left unencumbered.

He'd died penniless, so she was penniless too.  Even her dowry—the one Holden was expecting to be his—was squandered.  There would have to be an estate sale with every item—right down to the forks in the drawers—sold to square Sir Walford's debts.

Holden was aware of Mr. Dobson's scathing attitude about her father, and he'd mocked the dire tidings and declared Dobson an elderly worrywart.  Because she'd been desperate to believe Holden over Mr. Dobson, she'd latched on to his derision and had adopted it for her own.  But she couldn't continue to pretend.

She should have visited Holden the prior evening to reveal the enormity of the debacle.  Or when he'd arrived at her town home to convey her to the chapel, she should have bluntly explained.  She was a coward though and had been terrified to confess her reality, terrified he would cry off.  Then where would she be?

Holden was very fond of her, wasn't he?  He always claimed he was, and she had no reason to suppose he wasn't sincere in his affection.  Circumstances couldn't dampen their bond.  He wouldn't leave her in the lurch merely because she was suffering financial difficulties.

"I should have talked to you about this back at the house," she said.

"Well, we're talking now.  Supply me with the shortened version so we can get inside.  I refuse to miss my own wedding."

It was just the type of comment she was anxious to hear.  "My appointment with Mr. Dobson was very disconcerting."

"I wish you wouldn't let him upset you.  He's not worth it, Winnie, and you shouldn't have met with him alone.  I won't have him browbeating you when I'm not there."

"He's been telling me the truth, Holden.  He brought in some men who showed me their ledger books.  I'm going to lose everything."

Time seemed to halt as he froze, his expression confused as if she was babbling in a foreign language he didn't understand.

"Define everything," he ultimately said.

"Sir Walford was a gambler who borrowed and spent what he didn't have.  He had numerous huge mortgages, and because of his reputation, the bank allowed his payments to lapse, but now that he's deceased, they're finished being generous.  They want their money, and they intend to foreclose."

"You're his daughter!" Holden huffed.  "What are they planning?  Will they kick you out on the road?"

"I'm afraid they might."

"Don't be ridiculous," he firmly stated.  "No one will kick you out.  I'll speak to Dobson in the morning and fix this straight away."

"I doubt you can.  He was quite adamant."

"What about your dowry?  We'll still have that, won't we?  It's a substantial sum, so we don't need the house or the property.  They can take it all and good riddance.  We'll be fine on those funds."

She glanced away, her cheeks heating with shame.  "I've never had a dowry, Holden.  My father never created one for me."

"Why was he always bragging about the size of it?"  He scowled ferociously.  "I won't accept such a false narrative.  This is Sir Walford we're discussing.  He wouldn't have behaved that way toward you—and Dobson is a liar."

"Please tell me this doesn't matter to you," she said.  "I'm so scared you'll forsake me."

"I could never forsake you, Winnie.  Let's go in and repeat our vows, and you'll learn how committed I am."

"All right."

Tears flooded her eyes, and he drew a kerchief from his coat and dabbed at them.  She was calmed by the gesture, relieved by the gesture.  He would guide her through the approaching months and years, and his unwavering devotion would make the pummeling seem less severe.

Besides, the loss of her assets wasn't exactly a calamity.  His family was rich, and his brother had his own estate across the border in Scotland.  If worse came to worst, they could travel north and stay with him for a bit until they sorted out her fiscal predicament.  She needn't worry.

Holden climbed out of the carriage, and he reached up and helped her out too.  The day had started out cloudy and rainy, but the sky had cleared, and it was sunny and bright.

In his gray wedding suit, he looked handsome and dapper.  His golden-blond hair appeared to glow, and his green eyes were sensitive and warm.  He stared at her as if she was beautiful and marvelous, and she was swamped by a burning sensation that things would work out for the best.

"Are you ready?" he asked as he had earlier.

"Yes, I'm ready."

"No more tears.  Promise?"

"No more tears."

They walked over to the church, and as she scooted into the dark vestibule, he casually inquired, "Are you sure Mr. Dobson was correct about the dowry?"

"Yes, he was very sure."

He chuckled.  "Well, then, I am sure he's insane, and I hate that he alarmed you so hideously."

They peered around, their vision adjusting in the dim light.  The vicar was up by the altar.  He waved at them, and Holden waved back.

"Oh, Winnie," he suddenly said, "I have a surprise for you, but I left it in the carriage."

"What is it?"

He grinned.  "If I told you, it wouldn't be a surprise, would it?"

"No, I suppose not."

"Give me a second to fetch it for you."

"Hurry, please.  I don't want to keep the vicar waiting."

"I wouldn't dream of it."

He urged her into the rear pew, then he winked and strolled outside.

She peeked over her shoulder to watch him leave, the door slowly swinging shut behind him.  And she continued to watch, for a minute—then another and another and another and another—but he never returned.

Eventually, she stood and went out to discover what had delayed him, but the carriage was gone—and he was gone.

She never saw him again.

Three years later…

 

Review: This is the second in Ms. Holt's series on Jilted Brides and just as delightful as the first. I really enjoyed finding a new/old author. I had forgotten how much I liked Ms. Holt.  In the second installment we get to learn more about Winifred, Winnie to her friends; the governess for the children born out of wedlock by Peyton Prescott's brother.

Winnie ventures out to find the relatives of one of her charges along with a half- brother in need of a home also. Her adventure takes her to a small island off of the coast of Scotland, Dunn Island. There she is on a quest to find her charge's uncle, Lord John Dunn. John wants nothing to do with Winnie and the children.

To me I liked John and all his surliness. He brought some realism to the story as the dialogues between him and Winnie was often filled by bickering back and forth. Much as most couples in long relationships do at times. Even though this was a somewhat short relationship it added a bit of depth to the story.  John was kind of a dolt at first but he began to grow on you after a while.

John was Winnie's last hope for the children and actually she is included. I liked Winnie's feistiness as she pleaded her case to John. I could see John liked it also. It I think won him over.

Winnie's wiliness to travel to find a home with family for these children made her very endearing to me. She was brave and very strong. I was touched by her character. She became very real to me. Also, as John started to feel the chemistry between them he became a character that you could feel for also. He had secrets…he wanted to start smuggling in order to pay off debts. But, he wanted Winnie and the children off of the island so they wouldn't be involved. This helped in making John a likable character.

Overall this was another entertaining story with characters you fall in love with and they become family. This can be read alone but I think it worked better as a continuation of the first book in the Series Jilted by a Cad.

The slow spark between these two will have you wanting to find out if Winnie finally gets her HEA.  A great read with wonderful characters…

~ Reviewed by Robin with Romancing the Book | http://romancing-the-book.com/2018/10/review-jilted-by-a-scoundrel-by-cheryl-holt.html

"I am glad you gave Winifred Watson a book of her own, because in Book 1, JILTED BY A CAD, we met her briefly, and I liked her enough to want her to get her own story.

Winnie loved Bobby and Jane (I loved both of these kids too) enough to take them across the country to Jane's uncle rather than see anything else happen to them.  Hero, John Dunn, was someone whose pride was still smarting at being kicked out of the military and was still dealing with a wound that had almost killed him and forced him back to a place where he was a virtual stranger.

I think that Winnie was just what John needed and he was just what she needed.  She was alone in the world since her father had died and her world had been shaken up first by her father dying, then finding out that he was bankrupt, then by [her fiance] Holden leaving her at the altar.

The villainness, Melvina, was mad as a hatter, and a cruel person to boot.  I was glad to see what happened to her.

I loved it when Bobby told John that Winnie didn't do well on her own.  This boy had grown up at Benton, treated as nothing more than the Earl's by-blow  but at Dunworthy. he was given a role of importance.  He thought his most important role was to take care of Jane and Winnie.  Jane was a lot like Daisy [from Book 1] when she had to be.  She's a sweet little girl who found her voice at Dunworthy.

I think it's great that  the women in all 3 of the Jilted books had disastrous run-ins with Holden Cartwright.  I am interested to see if he gets what is coming to him in the end.

I'm on to Book 3, JILTED BY A ROGUE.  I am interested to read about Amelia and the man you paired her with, James, and also to see if there's a villain who messes with her–or both of them. The first 2 books in this series didn't disappoint so I doubt that the conclusion of the series will."
~ Susan…

---

"I just had to let you know, I just finished the "Jilted" trilogy.  It was FABULOUS! I laughed, I cried, I got angry and I smiled.  I waited until I knew I had a few days to myself to just read and I started Thursday night and finished about an hour ago.  I was never disappointed. Thank you so much for making my weekend."
~Robin