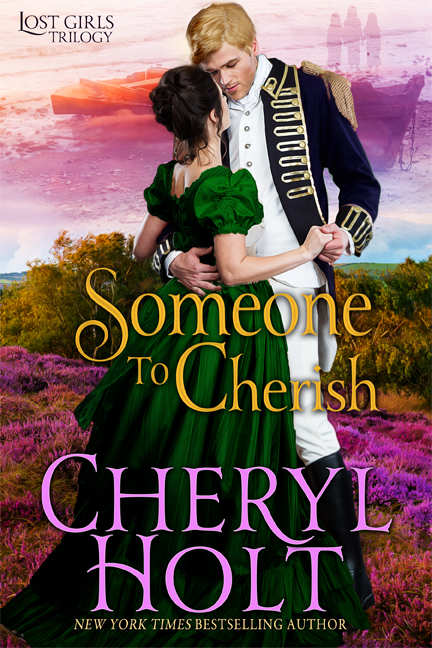 Now Available!
CHERYL HOLT delivers the second novel in her poignant and thrilling, Lost Girls trilogy…
Caroline Grey was just four years old when she was found stranded and alone by navy sailors on a deserted island in the Caribbean. When she was returned to England, she enjoyed a brief burst of notoriety. Who was she? Who had her parents been? Ultimately, she was claimed by her dour, miserly relatives who've treated her like an unwanted pauper. She's spent her life trying to be accepted by those who should love her, but her haunting past has created too many obstacles. It's difficult to fit in…
Caleb Ralston is a wealthy, infamous gambler who's raging against the unfairness of life. After spending a decade in the navy, he was forced out of the post he treasured as he struggled to protect others from a scandal. As a result, he vowed to become very rich so he could avenge himself against the sort of affluent oafs who've always disdained him…
When he meets Caroline, he's intrigued by her beauty and pluck, but she's part of the world he loathes, and he could never bind himself to her. But Fate and destiny have other plans for Caleb, and Caroline might turn out to be just the woman he needs…
*          *          *
Lost forever…finally found…
*          *          *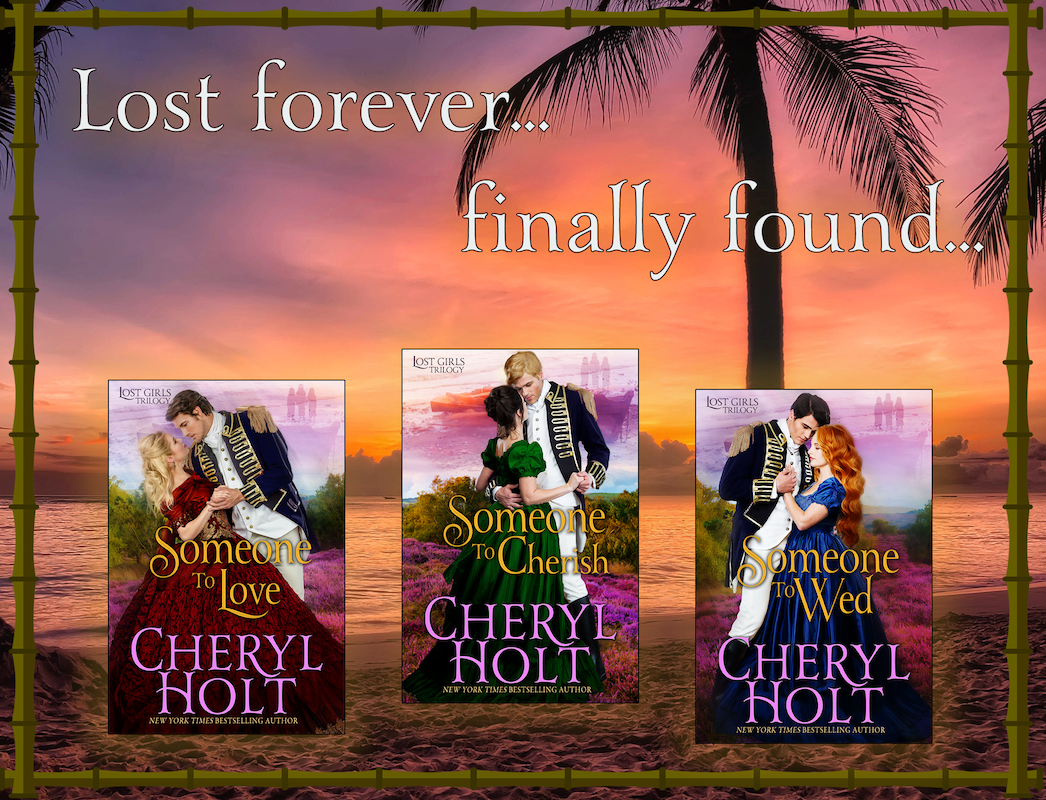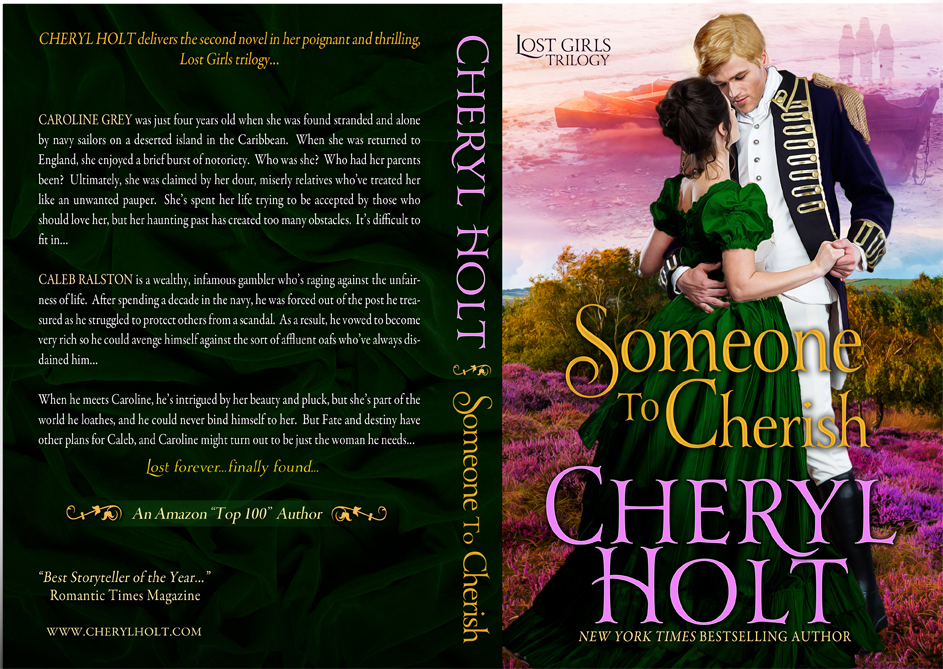 "The romance sizzles from the beginning and does not let up!" ~ Georgina, The Reading Cafe
"Do yourself a great favor and get a copy of this marvelous story." ~ Georgina, The Reading Cafe
"I loved SOMEONE TO CHERISH, and there were some REALLY funny… moments in there.
I loved Caroline and thought she was really sweet, genuine and a little naive. She kept a lot inside for the sake of not causing trouble or "rocking the boat", but [she said to herself], if she ever released all of the rage she had inside, she would scorch the world. Caleb helped her find her voice, and we saw the real Caroline finally stand up.
Caleb really reminded me of a cross between Raven (in ALWAYS MINE) and Michael (in HEART'S DELIGHT). He was used to dealing with, and profiting off of, the worst that society had to offer, so when he met sweet, gentle Caro he was bowled over.
Blake really reminded me of [Rafe, in HEART'S DESIRE]. Blake was not a bad person, but because of the cad his father had been, he was thinking he would never marry. While I do not think he was a bad person, he seemed to be a very good-hearted person, he was a bit of a cad too.
I really liked the character of Janet, I'm glad that Caroline had someone in her corner. She did not think she wanted a man at all, but she fell head over heels for Blake.
The story itself was a really great one and I loved how the three [Lost Girls] believed that Captain Ralston was watching over them and led them to their true loves. I also love how you subtly remind readers that your books are in the same "world", like how you mentioned that Caro's father had traveled to Africa with Sir Sydney Sinclair.
I hope I enjoy Jacob and Joanna's book as much as I did Caroline and Caleb's."
~ Susan…
"The romance sizzles from the beginning and does not let up!" ~ Georgina, The Reading Cafe

"Do yourself a great favor and get a copy of this marvelous story." ~ Georgina, The Reading Cafe

"I loved SOMEONE TO CHERISH, and there were some REALLY funny… moments in there.

I loved Caroline and thought she was really sweet, genuine and a little naive. She kept a lot inside for the sake of not causing trouble or "rocking the boat", but [she said to herself], if she ever released all of the rage she had inside, she would scorch the world. Caleb helped her find her voice, and we saw the real Caroline finally stand up.

Caleb really reminded me of a cross between Raven (in ALWAYS MINE) and Michael (in HEART'S DELIGHT). He was used to dealing with, and profiting off of, the worst that society had to offer, so when he met sweet, gentle Caro he was bowled over.

Blake really reminded me of [Rafe, in HEART'S DESIRE]. Blake was not a bad person, but because of the cad his father had been, he was thinking he would never marry. While I do not think he was a bad person, he seemed to be a very good-hearted person, he was a bit of a cad too.

I really liked the character of Janet, I'm glad that Caroline had someone in her corner. She did not think she wanted a man at all, but she fell head over heels for Blake.

The story itself was a really great one and I loved how the three [Lost Girls] believed that Captain Ralston was watching over them and led them to their true loves. I also love how you subtly remind readers that your books are in the same "world", like how you mentioned that Caro's father had traveled to Africa with Sir Sydney Sinclair.

I hope I enjoy Jacob and Joanna's book as much as I did Caroline and Caleb's."
~ Susan…