Someone to Love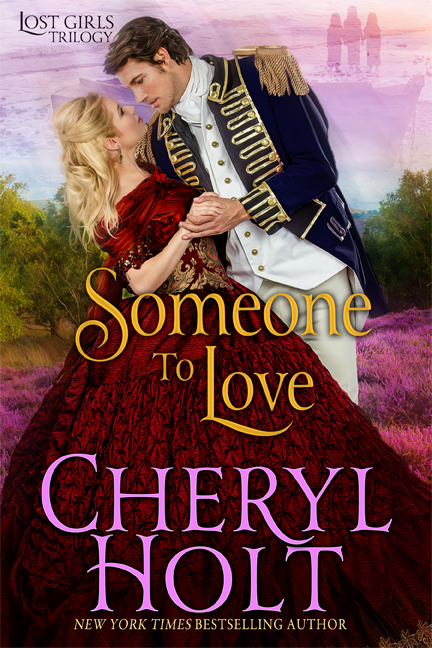 CHERYL HOLT delivers the first novel in her new and exciting "Lost Girls" trilogy.
As a tiny girl, Libby Carstairs was found by navy sailors on a deserted island in the Caribbean. She was all alone and had no memory of her past or parents. Who is she?  And what happened to leave her stranded so far from home? After she was returned to England, her situation was sensationalized in the newspapers, which meant she's enjoyed a life of public acclaim.  Due to her unconventional history, she's very different from other young ladies and has no desire to ever be ordinary.
Luke Watson had an exciting career in the navy, but on his brother's death, he's come home to assume his role as Earl of Barrett. His brother, with his repeated scandals, ran the family's reputation and estate into the ground, and Luke is determined to repair all that's been destroyed by exhibiting stellar moral behavior at all times. He will wed the perfect aristocratic girl, settle down to a tedious country existence, and try to be content.
But when he meets Libby, sparks fly and passion ignites. She's the complete opposite of the woman he thought he wanted in his life, but she just might be exactly who he needs…
*          *          *
Lost forever…finally found…
*          *          *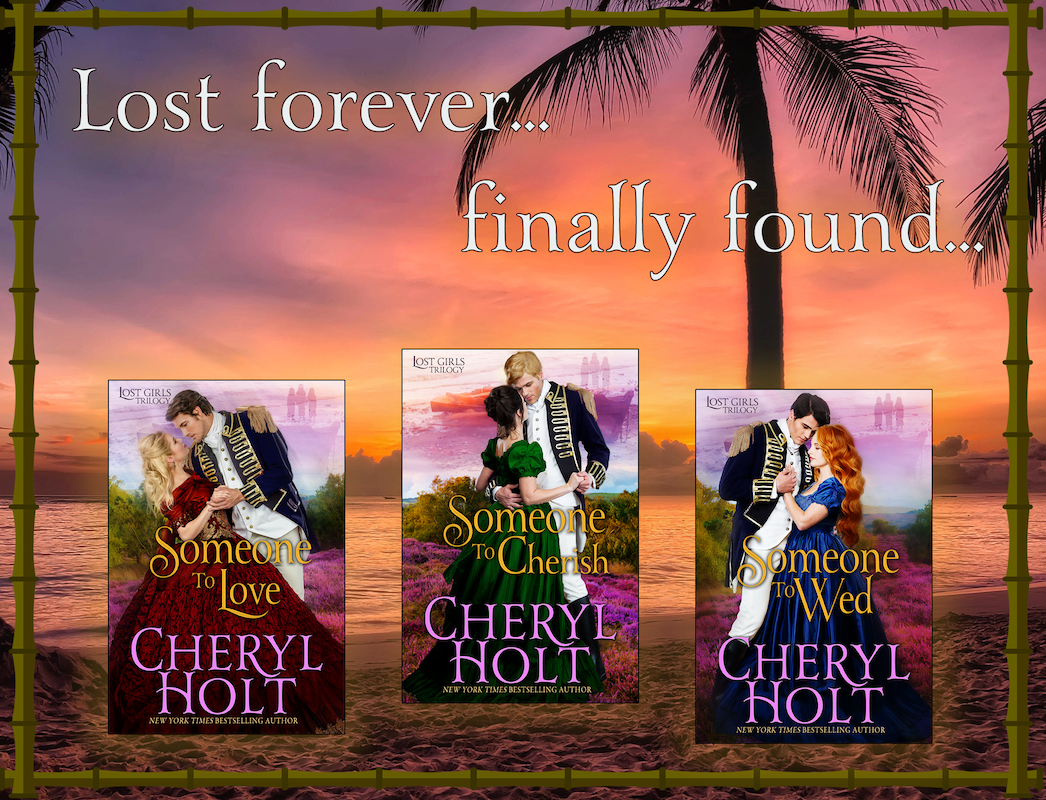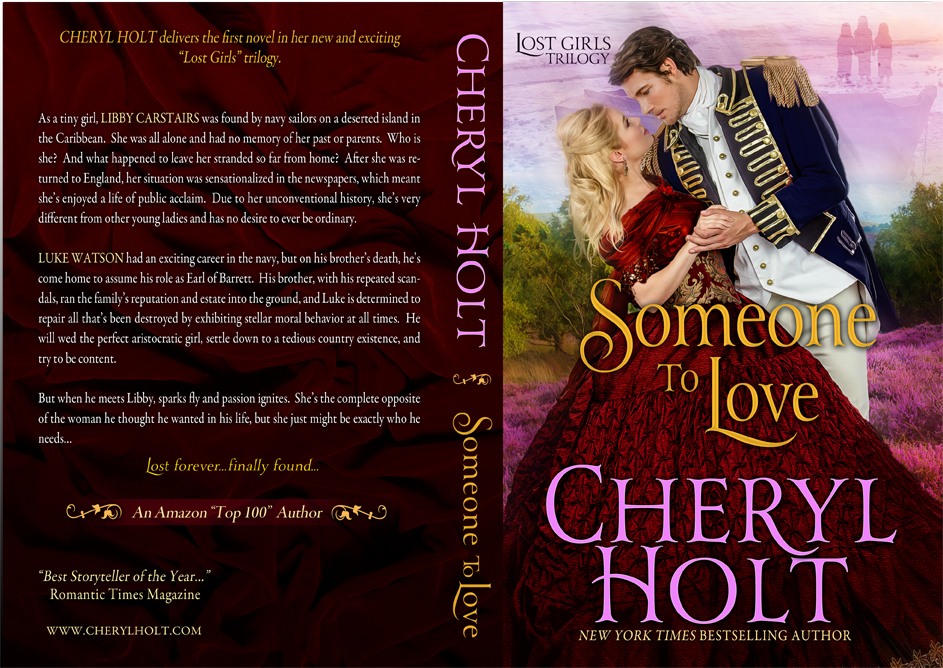 "What a Magnificent story! Gripping and Suspenseful, SOMEONE TO LOVE weaves a story from beginning to end with threads of intrigue, secrets, and mystery. Cheryl Holt has given readers a book that is beautifully written, characters that are well thought out, and each one came to life. You find yourself drawn into their story and heartfelt dialogue, with a strong plot that brings this read together perfectly!
What a tangled web is weaved at a betrothal house party in the country. As Libby and Luke find themselves evolved in their game of cat and mouse sparks start to fly between them.  It takes them on a journey with humorous situations, bickering, uncertainties, twist and turns, and while the suspense builds and tensions escalate, amour abounds that will keep you enthralled from the beginning to the end."
Cindy Collard, Amazon Reviewer
---
"SOMEONE TO LOVE is the first book in Cheryl Holt's new trilogy. What an exciting start it is!" ~Georgina, The Reading Cafe
"Plot twists and turns will have you on the edge of your seat!" ~ Georgina, The Reading Cafe
---
Aimee at Red Headed Book Lover…
Someone to Love is a moving, exciting, transfixing novel with historical intrigue that will have its readers turning the pages with haste into the early hours of the morning! As I began to read Someone to Love, I immediately knew that this was going to be a sensational read and now that I have finished it I can say that it was this and more! It is an intriguing, unique historical romance novel that captivated me with its heart-pounding moments and phenomenal literature courtesy of the excellent author Cheryl Holt. If you are a reader who loves being taken on a journey that is full of captivating and moving moments, then you will love Someone to Love, so do not miss out! If you need more convincing, then please continue to read my review to learn more about the stellar novel!
Someone to Love is a sensational and captivating historical romance that will introduce the reader to the protagonist of the novel, Libby Carstairs. Libby is no ordinary woman with no ordinary lie as she was found by Navy sailors on an island in the Caribbean. Libby however has no recollection of what happened for her to be there or who she truly is but, despite this, she manages to make a name for herself in England thanks to the unusual circumstances in which she was found. In Someone to Love, the reader will also be introduced to Luke Watson, a man who has come home to assume his role as Earl of Barrett and thanks to his family's tarnished reputation, he is looking to turn it around and he hopes to do so by marrying the perfect wife. However, when he meets Libby he can't resist her even though she is the opposite of what he was looking for. Will their love last? Read the incredible Someone to Love to find out!
The story of Someone to Love is a stellar one that had me intrigued from the very start. I love any story with a historical theme, so I knew from the beginning that Someone to Love would deliver thanks to this theme, and wow did it! From the start, the reader is immediately thrust into the thick of the story and you won't be able to help but turn the pages with haste! Thanks to the sensational story laced throughout.
As well as this, Someone to Love captured my attention immediately thanks to the wonderful characters, and moving plot. As I read Someone to Love I was honestly in awe; it was like a present was being unwrapped before my eyes, and the more the pages turned, the more excited I got for the finale!
Not only is Cheryl Holt an outstanding writer for her ability to thrust her readers into the thick of the story, but she also is because she was able to describe all of the events that unravel perfectly. Every event and moment and even place is flawlessly described with a wealth of detail which in turn keeps the reader turning the pages!
To conclude my thoughts on this wonderful book, Someone to Love is a gripping historical romance novel that is guaranteed to keep readers entertained for hours on end so I, of course, have to award the story five stars! Be sure to have a read of the preview below book lovers; you will not regret it!
Thank you so much for reading book lovers! I appreciate it so much. Here is a preview of the book for all of you lovely readers to enjoy! Please have a read of the preview and if you find that you have loved what you have read then all you need to do is follow the links below!
Goodbye for now book lovers,
I finished SOMEONE TO LOVE this morning, and I can tell you that I really liked it.  Libby reminded me of Evangeline [from WONDERFUL].  She was beautiful, sweet, larger than life, and people were drawn to her like a moth to a flame.  And I think what she wanted most of all was to be truly loved… and to have a family.
Luke was a good bit like Aaron [from WONDERFUL] to me, when it came to falling in love with Libby.  At first, he thought he was just infatuated with Libby, and he did not want to admit that he was indeed in love with her because he was merely thinking of the title and marrying a girl for her dowry.
Simon Falcon was a scoundrel but there was something really likeable about him.  He started his thing with Penny Pendleton as a way to simply get money, but along the way genuinely seemed to fall for her.
Penny was really a likeable character as well.  At first she was fairly naive, but seemingly just being around Libby for a short time…helped her find her voice and her backbone.  We also saw that she is more like her father when he was younger than he probably was comfortable with.  From the conversation that Penny and Simon had before they ran off to Scotland, I don't know if Penny will be the one that will make Simon walk the straight and narrow, or if she will have him teach her how to assist him in his swindles (I'm leaning toward the latter).
I think that Fish fell in love with Charles all those years ago, and when he broke it off she decided to tuck her heart away and be practical.  She gave men her body, but she kept her heart tucked away.  When she, Simon, and Libby go to Roland, and she reconnects with Charles, the feelings were still there, but she was also guided by what she's learned about men.
Charles, Lord Roland, had been checked out and almost sleepwalking for the last 20 years.  He had also come to terms with the fact that his daughter, Little Henrietta, was gone and he would never see her again.  It seemed to me that Fish woke Charles up after he'd been "sleeping" for so long.
Then we come to Millicent, who had let herself live a fantasy for about 15 years.  She saw Libby and Fish as threats to her fantasy.
Really liked SOMEONE TO LOVE and this evening I will start SOMEONE TO CHERISH.
~ Susan…
"What a Magnificent story! Gripping and Suspenseful, SOMEONE TO LOVE weaves a story from beginning to end with threads of intrigue, secrets, and mystery. Cheryl Holt has given readers a book that is beautifully written, characters that are well thought out, and each one came to life. You find yourself drawn into their story and heartfelt dialogue, with a strong plot that brings this read together perfectly!

What a tangled web is weaved at a betrothal house party in the country. As Libby and Luke find themselves evolved in their game of cat and mouse sparks start to fly between them.  It takes them on a journey with humorous situations, bickering, uncertainties, twist and turns, and while the suspense builds and tensions escalate, amour abounds that will keep you enthralled from the beginning to the end."

Cindy Collard, Amazon Reviewer

---

"SOMEONE TO LOVE is the first book in Cheryl Holt's new trilogy. What an exciting start it is!" ~Georgina, The Reading Cafe

"Plot twists and turns will have you on the edge of your seat!" ~ Georgina, The Reading Cafe

---

Aimee at Red Headed Book Lover…

Someone to Love is a moving, exciting, transfixing novel with historical intrigue that will have its readers turning the pages with haste into the early hours of the morning! As I began to read Someone to Love, I immediately knew that this was going to be a sensational read and now that I have finished it I can say that it was this and more! It is an intriguing, unique historical romance novel that captivated me with its heart-pounding moments and phenomenal literature courtesy of the excellent author Cheryl Holt. If you are a reader who loves being taken on a journey that is full of captivating and moving moments, then you will love Someone to Love, so do not miss out! If you need more convincing, then please continue to read my review to learn more about the stellar novel!

Someone to Love is a sensational and captivating historical romance that will introduce the reader to the protagonist of the novel, Libby Carstairs. Libby is no ordinary woman with no ordinary lie as she was found by Navy sailors on an island in the Caribbean. Libby however has no recollection of what happened for her to be there or who she truly is but, despite this, she manages to make a name for herself in England thanks to the unusual circumstances in which she was found. In Someone to Love, the reader will also be introduced to Luke Watson, a man who has come home to assume his role as Earl of Barrett and thanks to his family's tarnished reputation, he is looking to turn it around and he hopes to do so by marrying the perfect wife. However, when he meets Libby he can't resist her even though she is the opposite of what he was looking for. Will their love last? Read the incredible Someone to Love to find out!

The story of Someone to Love is a stellar one that had me intrigued from the very start. I love any story with a historical theme, so I knew from the beginning that Someone to Love would deliver thanks to this theme, and wow did it! From the start, the reader is immediately thrust into the thick of the story and you won't be able to help but turn the pages with haste! Thanks to the sensational story laced throughout.

As well as this, Someone to Love captured my attention immediately thanks to the wonderful characters, and moving plot. As I read Someone to Love I was honestly in awe; it was like a present was being unwrapped before my eyes, and the more the pages turned, the more excited I got for the finale!

Not only is Cheryl Holt an outstanding writer for her ability to thrust her readers into the thick of the story, but she also is because she was able to describe all of the events that unravel perfectly. Every event and moment and even place is flawlessly described with a wealth of detail which in turn keeps the reader turning the pages!

To conclude my thoughts on this wonderful book, Someone to Love is a gripping historical romance novel that is guaranteed to keep readers entertained for hours on end so I, of course, have to award the story five stars! Be sure to have a read of the preview below book lovers; you will not regret it!

Thank you so much for reading book lovers! I appreciate it so much. Here is a preview of the book for all of you lovely readers to enjoy! Please have a read of the preview and if you find that you have loved what you have read then all you need to do is follow the links below!

Goodbye for now book lovers,

I finished SOMEONE TO LOVE this morning, and I can tell you that I really liked it.  Libby reminded me of Evangeline [from WONDERFUL].  She was beautiful, sweet, larger than life, and people were drawn to her like a moth to a flame.  And I think what she wanted most of all was to be truly loved… and to have a family.

Luke was a good bit like Aaron [from WONDERFUL] to me, when it came to falling in love with Libby.  At first, he thought he was just infatuated with Libby, and he did not want to admit that he was indeed in love with her because he was merely thinking of the title and marrying a girl for her dowry.

Simon Falcon was a scoundrel but there was something really likeable about him.  He started his thing with Penny Pendleton as a way to simply get money, but along the way genuinely seemed to fall for her.

Penny was really a likeable character as well.  At first she was fairly naive, but seemingly just being around Libby for a short time…helped her find her voice and her backbone.  We also saw that she is more like her father when he was younger than he probably was comfortable with.  From the conversation that Penny and Simon had before they ran off to Scotland, I don't know if Penny will be the one that will make Simon walk the straight and narrow, or if she will have him teach her how to assist him in his swindles (I'm leaning toward the latter).

I think that Fish fell in love with Charles all those years ago, and when he broke it off she decided to tuck her heart away and be practical.  She gave men her body, but she kept her heart tucked away.  When she, Simon, and Libby go to Roland, and she reconnects with Charles, the feelings were still there, but she was also guided by what she's learned about men.

Charles, Lord Roland, had been checked out and almost sleepwalking for the last 20 years.  He had also come to terms with the fact that his daughter, Little Henrietta, was gone and he would never see her again.  It seemed to me that Fish woke Charles up after he'd been "sleeping" for so long.

Then we come to Millicent, who had let herself live a fantasy for about 15 years.  She saw Libby and Fish as threats to her fantasy.

Really liked SOMEONE TO LOVE and this evening I will start SOMEONE TO CHERISH.
~ Susan…