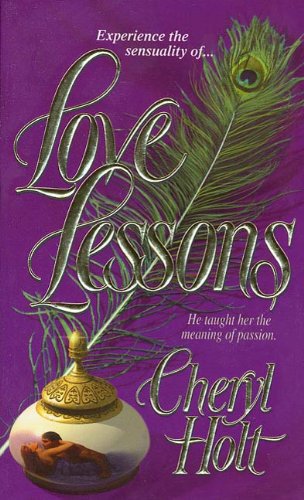 Abigail Weston is twenty-five years old and still unwed. For a brief period of time, she was engaged at age seventeen, but her fiancee died before they were married. Shortly after, her mother died, as well, and she retired to the country, where she's spent the past seven years raising her younger sister, Caroline, to adulthood.
Caroline is now seventeen, herself, and ready to make her debut. She and Abigail have come to London to stay with their brother, the Earl of Marbleton, and Abigail will chaperone Caroline through the whirl of social events that make up the London Season. She will also guide Caroline in her selection of a husband.
As Caroline prepares to enter the marriage market, she begins to ask questions of Abigail — questions about the sexual side of love — and Abigail quickly realizes that she has no basis of knowledge for providing the young woman with the kind of information she needs to succeed at the physical requirements of matrimony.
Abigail has heard a man's name bandied about in whispers by the women with whom she visits, and the more she hears of his amorous exploits, the more intrigued she becomes. Supposedly, he is a passionate, skilled lover who has women flocking to his side, but he also has the reputation for being extremely discreet in his personal affairs.
A wicked idea, completely foreign to her character, starts to form, and she decides to approach him to see if he would verbally tutor her in the loving arts. Naively, she believes they will be able to meet innocently, coming together to talk about sex and pleasure without the necessity of any type of physical contact.
What she has not considered, however, is that her body has been unknowingly pining for a man's sexual attentions. From the very first moment she contacts James Stevens, she lights a fire she has no means of extinguishing.
James is the notorious owner of a renowned gambling establishment who exists on the fringes of London's High Society. He's bored and looking for something that will put some excitement back into his life. When Abigail clandestinely meets him and makes her bizarre request that he teach her about sexual relations, he's completely titillated by the erotic possibilities. As a man who's had extensive experience with women, he recognizes the special chemistry that sparks whenever she is near, and he is captivated by what could become of an illicit liaison.
They are physically attracted to each other in the worst way, and temptation is impossible to resist. They begin meeting secretly, and step by step, Abigail is drawn into the world of passion James opens for her. With her entire being, she begins to anticipate their assignations, and she can hardly endure the lackluster days that pass with terrifying slowness in between each encounter.
As they spend time together, it becomes apparent that their physical craving has blossomed into an emotional bond, as well. However, they both realize any future is hopeless.
How well will Abigail learn the skills her tutor teaches her? Will she find the courage to throw off Society's shackles so that she can be with James in every way?
Will James shed the bonds of his past, giving up his life of debauchery and dissipation in order to become the husband Abigail deserves?
Join Abigail and James as they venture down the carnal path of desire, only to find the route to everlasting love.

Nominated Best Erotic Novel of 2001
"With her well-defined characters, even pacing, and heated love scenes, Ms. Holt makes an easy entry into the world of erotic romance." — Romantic Times
"I would recommend this book to those of you who like Thea Devine or the later works of Susan Johnson." — Romance Reviews Today
"Robin Schone may want to start looking over her shoulder." — Mrs. Giggles, Lunarpages.com
"I finished LOVE LESSONS las night and enjoyed every minute. thank you for bringing such a wonderful story to me." — Gail
"I just finished reading LOVE LESSONS. I LOVED it!" — Wateena K
"I loved LOVE LESSONS. Great erotic book!" — Joey
"WOW!!!!!!!!! I've defnitely missed some fantastic reading if your other books are as good as this one. I couldn't put it down for more than a minute. WOW!!! THANKS FOR THE GREAT READ!!!" — Margaret
"Just a quick note to tell you how much I enjoyed reading LOVE LESSONS. Abigail was a terrific hero, and James was a wonderful, tortured hero. LOVE LESSONS is the first book of yours I've read, but I'm going to look for the others. Thanks again for a great read and I look forward to many more." — Cindy C
"I just finished reading your newest book–LOVE LESSONS. This was one of the most sensual books I read in a long time and I read plenty. Congratualtions. Keep up the good work." — Dianne
"This is no doubt the greatest book I have ever read." — Cindy P

Nominated Best Erotic Novel of 2001

"With her well-defined characters, even pacing, and heated love scenes, Ms. Holt makes an easy entry into the world of erotic romance." — Romantic Times

"I would recommend this book to those of you who like Thea Devine or the later works of Susan Johnson." — Romance Reviews Today

"Robin Schone may want to start looking over her shoulder." — Mrs. Giggles, Lunarpages.com

"I finished LOVE LESSONS las night and enjoyed every minute. thank you for bringing such a wonderful story to me." — Gail

"I just finished reading LOVE LESSONS. I LOVED it!" — Wateena K

"I loved LOVE LESSONS. Great erotic book!" — Joey

"WOW!!!!!!!!! I've defnitely missed some fantastic reading if your other books are as good as this one. I couldn't put it down for more than a minute. WOW!!! THANKS FOR THE GREAT READ!!!" — Margaret

"Just a quick note to tell you how much I enjoyed reading LOVE LESSONS. Abigail was a terrific hero, and James was a wonderful, tortured hero. LOVE LESSONS is the first book of yours I've read, but I'm going to look for the others. Thanks again for a great read and I look forward to many more." — Cindy C

"I just finished reading your newest book–LOVE LESSONS. This was one of the most sensual books I read in a long time and I read plenty. Congratualtions. Keep up the good work." — Dianne

"This is no doubt the greatest book I have ever read." — Cindy P