The Wedding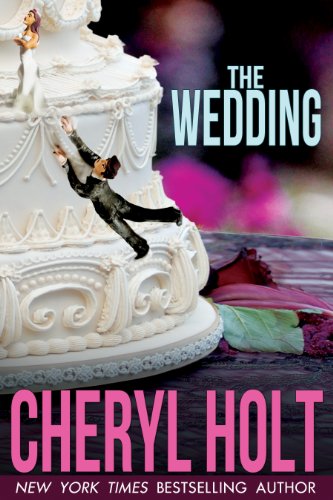 Linda Bennett has lived a charmed life. With her husband being a rich tycoon, she's been showered for decades with wealth and privilege. While the bad economy has ruined many of their acquaintances, they've been extremely lucky, both in their marriage and their finances. Or so she thinks.
When her daughter decides to marry—too young and too fast for Linda's liking—Linda's husband claims he doesn't want to flaunt the family's good fortune. He convinces the bride to skip the expensive, ostentatious ceremony and instead host a small, intimate affair at his members-only private club located on the Mexican coast. But from the moment the guests begin to arrive, the entire event seems cursed. Linda's husband keeps disappearing for hours on end, the groom's divorced parents are certifiable, and the groomsmen drunken idiots. And when one of the bridesmaids sets her sights on the sexy groom, all bets are off.
Will the bride make it to the altar? New York Times bestselling author CHERYL HOLT—with her fast pacing, dazzling dialogue, fascinating characters, and infuriating villains—will keep readers guessing to the last page.

Mr. and Mrs. Donald Bennett
Invite you to the marriage of their daughter
Miss Nicole Bennett
To Mr. Matt Jones
2:00 p.m.
Saturday, June 20th
Villa Grande Resort
Rosario, Baja California
WEDNESDAY…
Linda…
"When is Matt supposed to arrive?"
"He should have been here an hour ago."
Linda Bennett forced a smile, not wanting to give the slightest hint that she was annoyed.  Nicole didn't appear to be irritated, and she was the bride.  If she wasn't concerned that the groom was late, it was hardly Linda's place to complain.
Still…
Nicole was her youngest daughter, age twenty-three, and Linda had never seen her so happy.  She was madly in love and completely overjoyed to be marrying her fiancé, Matt Jones.  Compared to Linda's two other kids, Nicole had been such an easy child, so full of life and quick to assist or befriend.  Her wedding was in three short days, and she was more content than ever.
So Linda wouldn't dampen Nicole's spirits, but she could help worrying.  Nicole was only a year out of college and—in Linda's opinion—marrying much too early, but Nicole had insisted, and Linda hadn't been able too dissuade her.
Matt was twenty-three, too, and a little too laid-back for Linda.  He was always running behind schedule, calling with excuses, changing plans on the spur of the moment.  And that job of his—managing a bar.  It wasn't much of a career, and Linda thought it posed too many temptations, but at least he was employed.
With the faltering economy, many of their acquaintances had grown children moving home, and they never seemed to move out again.
Nicole and Matt both worked, Matt at the bar and Nicole at the charity she'd founded, so they could set up their own household and carry on like the adults they were.  It was a blessing, and Linda shouldn't forget it.
"Have you heard from him?" Linda asked Nicole.
"No, but I just texted him again.  I'm sure he'll reply any minute."
"I'm sure he will, too."
Linda's husband, Don, piped up.  "He's probably pulling into the parking lot even as we speak."
Nicole nodded.  "I'll bet he was delayed leaving Los Angeles."
"You know how traffic can be," Don agreed.
"And the bar had a band last night," Nicole added.  "That always turns into a mini-disaster."
So what? Linda silently mused.  It was to have been his final shift.  Why would he have had to hang around to handle any problems?
"Would you like me to walk to the lobby to see if he's there?" Don offered.
"Would you, Daddy?"
"Anything for you, pumpkin."
As if relieved to escape, he stood and rushed for the door.  But why would he be desperate to escape?  They loved traveling to Mexico, and the Villa Grande Resort where they were staying—a private, member's only club—was lush and quiet, their villa overlooking the small bay and the beautiful hotel grounds.  The place was luxurious, the view of the Pacific Ocean fantastic, yet his eyes were glued to his phone.
"Don," she snapped more petulantly than she'd meant to, "you were putting the phone away all week, remember?"
"Tomorrow, honey," he mumbled as he exited onto the sidewalk.  "I have a big deal closing.  I need to be available."
Then he was gone, and Linda sighed.
She hated to be exasperated, but recently, the tiniest thing would aggravate her.  Don was so distracted, and he never had any free time.  She shouldn't have felt ignored, but she did.
He worked hard—he'd always worked hard—and throughout their thirty-five years of marriage, she'd certainly benefited from his concentrated labor.
They'd met in college, had wed when she was twenty and Don twenty-two.  He'd taken evening classes in order to obtain his real estate license.  From that humble beginning, he'd built one of the premier real estate chains in the nation:  Bennett's Best.
His wealth had allowed her to remain at home and raise their three kids.  They lived in a gated community in Calabasas.  She drove a Mercedes, wore Chanel, could fly to Paris for a vacation if the mood struck her.
Why then, was she so dissatisfied?  She hadn't missed out on anything important along the way.
It had to be her age, she knew.  She'd just turned fifty-five, and though she still looked great—brown hair (dyed!), blue eyes, and her figure mostly intact—she was starting to feel old.  Especially now that her baby was getting married.
Once the ceremony was concluded, what would Linda do with herself?
"Does Daddy seem preoccupied to you?" Nicole asked.
"No more than usual."
Nicole chuckled, then sobered.  "Seriously.  He's been so distant lately.  Is everything all right?"
He had been distant, but Linda wasn't about to confide her worries to her daughter.  She didn't talk about her husband with her children, and for the most part, she'd never had any criticisms worth discussing.
They were happy; they were together.  How many couples in their generation could say the same?  Most of their acquaintances were divorced.  She and Don had made it.  They were the lucky ones.
"Everything is fine," Linda insisted.
"Well…good."
"Any word from Matt?"
"No."
"Why don't you try him again?  His parents are probably here.  It would be so awkward to greet them without Matt being present."
Linda hadn't met them yet and neither had Nicole.  The engagement had happened too quickly, the wedding date rapidly set, so normal arrangements and proceedings had been impossible.  Matt's parents were divorced, bitterly so, and the father remarried to a much younger woman.
"I'm positive we'll muddle through," Nicole blithely said.  She went out to the patio to sit by their private pool.
Off in the distance, Don meandered down the sloping path that led to the lobby.  His phone was pressed to his ear so tightly that it might have been surgically attached.  In his khaki shorts and white golf shirt, he was visible against the verdant landscaping.
He'd always been handsome, and he was one of those men who got better looking with each passing year.  At age fifty-seven, he was still lanky and fit.  His blue eyes sparked with merriment and his black hair hadn't thinned, though now it was peppered with striking streaks of gray.
He could have been a model in a magazine ad for expensive bourbon or luxury cars, and she never grew tired of watching him.
Lucky, lucky…she whispered to herself.
Suddenly, he was riveted by whatever he'd heard from the person he was chatting with on his phone.  He stiffened as if jolted by a cattle prod.  Then he murmured a reply and grinned a grin he never showed to Linda anymore.
He hurried on, and she spun away and strolled out the pool, content to pretend she hadn't seen anything at all.
*          *         *          *
Don…
"I swear he was an FBI agent."
Don took a deep breath, held it, let it out.  He hoped his anxiety wouldn't be discernible to his assistant, Chelsea Regan, who was back in Los Angeles.  She was only twenty-five and prone to wild ideas and even wilder behavior, which he usually enjoyed.  Could her overactive imagination be playing tricks?
"Why would you think he was FBI?"  Don forced himself to sound calm and collected.
"The military haircut, the dark blue suit, the cocky attitude.  He didn't seem like a normal guy, you know?"
Oh…
She ended many of her sentences with the words you know.  Typically, the phrase didn't bother him, but occasionally—like now—it grated.  She was so much younger than he was, and her speech, clothes, and conduct merely emphasized how despicably he was acting.
He chuckled.  "Why would the FBI be interested in me?"
"I don't have a clue.  Why would you suppose?"
The question hung there, and a lengthy silence stretched out, but he would never fill it.
Despite a few immature quirks, she was smart as a whip, and it was difficult to keep her suspicions at bay.  She realized that something was up, but she never came right out and said it.
The most incriminating documents were hidden where they'd never be found, but no matter how careful he was, there was always a chance that he'd forgotten to shred papers he should have destroyed.
"Have you talked to your wife yet?" she inquired, abruptly changing the subject.
"No."
"You promised you would."
"It's not a good time."
"When, Don?"
"After the happy couple is gone.  Our nest will be empty, and I'll have a heart to heart chat with her."
"Swear it to me."
"I swear, Chelsea."
She snorted.  "You are such a liar."
He shrugged—even though she couldn't see the gesture.  "What do you want me to say?"
"I want you to say you're ready to divorce her and marry me instead."
"I'm not telling my wife of thirty-five years that I'm divorcing her three days before my daughter's wedding.  I'm not that much of an asshole."
"You could tell her—if you were really serious."
He stared out at the ocean.  They'd had this debate over and over, and he was so weary of it.  He was such an intelligent guy.  How had he screwed up so royally?
The affair had to be ended, but with the FBI snooping around, Chelsea could become a dangerous adversary.  She had a temper like no woman he'd ever met.  If he split with her, how might she react?
He just needed a few more weeks, a few more days.  Sweat popped out on his brow; he was a nervous wreck.
Another protracted silence ensued, and he would have hung up on her, but she'd call right back and would keep calling until he answered.  She was like a dog at a bone and could be relentless.
He often wondered why he put up with her, but his reasons were crystal clear.
She was short and plump, but in the most sexually appealing way.  Her figure was nothing like that of other girls her age, girls who never ate any food and who spent tedious hours at the gym.  She had an old-fashioned body that was buxom and curved, and it ignited primitive male urges that he thought he'd lost.
"Guess what?" she said.
"What?"
"I don't have any clothes on."  She paused, letting him develop an arousing mental image.  "Don't you wish you were here with me?"
"Yes."
His cock actually stirred, and if he hadn't been standing in the middle of the resort grounds where anyone—including his wife—might see, he'd have reached down and stroked himself to ease some of the pressure.
"It's your lucky day, Don," she cooed.
"What do you mean?"
"I couldn't bear to be away from you for an entire week, you know?"
"And…?"
"I'm in Rosario, too, at the next hotel just down the beach.  I'm all alone, and I'm so lonely."
He stiffened as if she'd jabbed him with a knife.  "You…what?"
"Wouldn't you like to join me?"
"You're at the next hotel?"
"Yes."
He wanted to shout at her, wanted to ask how she'd found the gall to chase after him, but where she was concerned, he couldn't temper his behavior.  She was like a disease in his blood, one that was spurred on by the Viagra he'd recently begun taking.
He felt sixteen again and constantly ready to screw like a maniac.
"You could come over, Don."  Her voice was cajoling.  "You could be with me in a few minutes."
"Linda's here, Chelsea, and I shouldn't—"
"I'm wearing that red lipstick you like."
Careening from excitement to dread, he hemmed and hawed.
Why not, why not? a devilish imp taunted.  What could it hurt?
Linda and Nicole believed he'd gone to check on Matt.  They wouldn't expect him to trot back to the villa like a puppy on a leash.
"A half hour, Chelsea," he hissed, "and that's it."
"We can do plenty in half an hour, you know?"
She clicked off her phone, and when he should have turned right toward the lobby, he made a left instead, headed for the beach and the quickest path to her room.
*          *          *          *
Mr. and Mrs. Donald Bennett

Invite you to the marriage of their daughter

Miss Nicole Bennett

To Mr. Matt Jones

2:00 p.m.

Saturday, June 20th

Villa Grande Resort

Rosario, Baja California

WEDNESDAY…

Linda…

"When is Matt supposed to arrive?"

"He should have been here an hour ago."

Linda Bennett forced a smile, not wanting to give the slightest hint that she was annoyed.  Nicole didn't appear to be irritated, and she was the bride.  If she wasn't concerned that the groom was late, it was hardly Linda's place to complain.

Still…

Nicole was her youngest daughter, age twenty-three, and Linda had never seen her so happy.  She was madly in love and completely overjoyed to be marrying her fiancé, Matt Jones.  Compared to Linda's two other kids, Nicole had been such an easy child, so full of life and quick to assist or befriend.  Her wedding was in three short days, and she was more content than ever.

So Linda wouldn't dampen Nicole's spirits, but she could help worrying.  Nicole was only a year out of college and—in Linda's opinion—marrying much too early, but Nicole had insisted, and Linda hadn't been able too dissuade her.

Matt was twenty-three, too, and a little too laid-back for Linda.  He was always running behind schedule, calling with excuses, changing plans on the spur of the moment.  And that job of his—managing a bar.  It wasn't much of a career, and Linda thought it posed too many temptations, but at least he was employed.

With the faltering economy, many of their acquaintances had grown children moving home, and they never seemed to move out again.

Nicole and Matt both worked, Matt at the bar and Nicole at the charity she'd founded, so they could set up their own household and carry on like the adults they were.  It was a blessing, and Linda shouldn't forget it.

"Have you heard from him?" Linda asked Nicole.

"No, but I just texted him again.  I'm sure he'll reply any minute."

"I'm sure he will, too."

Linda's husband, Don, piped up.  "He's probably pulling into the parking lot even as we speak."

Nicole nodded.  "I'll bet he was delayed leaving Los Angeles."

"You know how traffic can be," Don agreed.

"And the bar had a band last night," Nicole added.  "That always turns into a mini-disaster."

So what? Linda silently mused.  It was to have been his final shift.  Why would he have had to hang around to handle any problems?

"Would you like me to walk to the lobby to see if he's there?" Don offered.

"Would you, Daddy?"

"Anything for you, pumpkin."

As if relieved to escape, he stood and rushed for the door.  But why would he be desperate to escape?  They loved traveling to Mexico, and the Villa Grande Resort where they were staying—a private, member's only club—was lush and quiet, their villa overlooking the small bay and the beautiful hotel grounds.  The place was luxurious, the view of the Pacific Ocean fantastic, yet his eyes were glued to his phone.

"Don," she snapped more petulantly than she'd meant to, "you were putting the phone away all week, remember?"

"Tomorrow, honey," he mumbled as he exited onto the sidewalk.  "I have a big deal closing.  I need to be available."

Then he was gone, and Linda sighed.

She hated to be exasperated, but recently, the tiniest thing would aggravate her.  Don was so distracted, and he never had any free time.  She shouldn't have felt ignored, but she did.

He worked hard—he'd always worked hard—and throughout their thirty-five years of marriage, she'd certainly benefited from his concentrated labor.

They'd met in college, had wed when she was twenty and Don twenty-two.  He'd taken evening classes in order to obtain his real estate license.  From that humble beginning, he'd built one of the premier real estate chains in the nation:  Bennett's Best.

His wealth had allowed her to remain at home and raise their three kids.  They lived in a gated community in Calabasas.  She drove a Mercedes, wore Chanel, could fly to Paris for a vacation if the mood struck her.

Why then, was she so dissatisfied?  She hadn't missed out on anything important along the way.

It had to be her age, she knew.  She'd just turned fifty-five, and though she still looked great—brown hair (dyed!), blue eyes, and her figure mostly intact—she was starting to feel old.  Especially now that her baby was getting married.

Once the ceremony was concluded, what would Linda do with herself?

"Does Daddy seem preoccupied to you?" Nicole asked.

"No more than usual."

Nicole chuckled, then sobered.  "Seriously.  He's been so distant lately.  Is everything all right?"

He had been distant, but Linda wasn't about to confide her worries to her daughter.  She didn't talk about her husband with her children, and for the most part, she'd never had any criticisms worth discussing.

They were happy; they were together.  How many couples in their generation could say the same?  Most of their acquaintances were divorced.  She and Don had made it.  They were the lucky ones.

"Everything is fine," Linda insisted.

"Well…good."

"Any word from Matt?"

"No."

"Why don't you try him again?  His parents are probably here.  It would be so awkward to greet them without Matt being present."

Linda hadn't met them yet and neither had Nicole.  The engagement had happened too quickly, the wedding date rapidly set, so normal arrangements and proceedings had been impossible.  Matt's parents were divorced, bitterly so, and the father remarried to a much younger woman.

"I'm positive we'll muddle through," Nicole blithely said.  She went out to the patio to sit by their private pool.

Off in the distance, Don meandered down the sloping path that led to the lobby.  His phone was pressed to his ear so tightly that it might have been surgically attached.  In his khaki shorts and white golf shirt, he was visible against the verdant landscaping.

He'd always been handsome, and he was one of those men who got better looking with each passing year.  At age fifty-seven, he was still lanky and fit.  His blue eyes sparked with merriment and his black hair hadn't thinned, though now it was peppered with striking streaks of gray.

He could have been a model in a magazine ad for expensive bourbon or luxury cars, and she never grew tired of watching him.

Lucky, lucky…she whispered to herself.

Suddenly, he was riveted by whatever he'd heard from the person he was chatting with on his phone.  He stiffened as if jolted by a cattle prod.  Then he murmured a reply and grinned a grin he never showed to Linda anymore.

He hurried on, and she spun away and strolled out the pool, content to pretend she hadn't seen anything at all.

*          *         *          *

Don…

"I swear he was an FBI agent."

Don took a deep breath, held it, let it out.  He hoped his anxiety wouldn't be discernible to his assistant, Chelsea Regan, who was back in Los Angeles.  She was only twenty-five and prone to wild ideas and even wilder behavior, which he usually enjoyed.  Could her overactive imagination be playing tricks?

"Why would you think he was FBI?"  Don forced himself to sound calm and collected.

"The military haircut, the dark blue suit, the cocky attitude.  He didn't seem like a normal guy, you know?"

Oh…

She ended many of her sentences with the words you know.  Typically, the phrase didn't bother him, but occasionally—like now—it grated.  She was so much younger than he was, and her speech, clothes, and conduct merely emphasized how despicably he was acting.

He chuckled.  "Why would the FBI be interested in me?"

"I don't have a clue.  Why would you suppose?"

The question hung there, and a lengthy silence stretched out, but he would never fill it.

Despite a few immature quirks, she was smart as a whip, and it was difficult to keep her suspicions at bay.  She realized that something was up, but she never came right out and said it.

The most incriminating documents were hidden where they'd never be found, but no matter how careful he was, there was always a chance that he'd forgotten to shred papers he should have destroyed.

"Have you talked to your wife yet?" she inquired, abruptly changing the subject.

"No."

"You promised you would."

"It's not a good time."

"When, Don?"

"After the happy couple is gone.  Our nest will be empty, and I'll have a heart to heart chat with her."

"Swear it to me."

"I swear, Chelsea."

She snorted.  "You are such a liar."

He shrugged—even though she couldn't see the gesture.  "What do you want me to say?"

"I want you to say you're ready to divorce her and marry me instead."

"I'm not telling my wife of thirty-five years that I'm divorcing her three days before my daughter's wedding.  I'm not that much of an asshole."

"You could tell her—if you were really serious."

He stared out at the ocean.  They'd had this debate over and over, and he was so weary of it.  He was such an intelligent guy.  How had he screwed up so royally?

The affair had to be ended, but with the FBI snooping around, Chelsea could become a dangerous adversary.  She had a temper like no woman he'd ever met.  If he split with her, how might she react?

He just needed a few more weeks, a few more days.  Sweat popped out on his brow; he was a nervous wreck.

Another protracted silence ensued, and he would have hung up on her, but she'd call right back and would keep calling until he answered.  She was like a dog at a bone and could be relentless.

He often wondered why he put up with her, but his reasons were crystal clear.

She was short and plump, but in the most sexually appealing way.  Her figure was nothing like that of other girls her age, girls who never ate any food and who spent tedious hours at the gym.  She had an old-fashioned body that was buxom and curved, and it ignited primitive male urges that he thought he'd lost.

"Guess what?" she said.

"What?"

"I don't have any clothes on."  She paused, letting him develop an arousing mental image.  "Don't you wish you were here with me?"

"Yes."

His cock actually stirred, and if he hadn't been standing in the middle of the resort grounds where anyone—including his wife—might see, he'd have reached down and stroked himself to ease some of the pressure.

"It's your lucky day, Don," she cooed.

"What do you mean?"

"I couldn't bear to be away from you for an entire week, you know?"

"And…?"

"I'm in Rosario, too, at the next hotel just down the beach.  I'm all alone, and I'm so lonely."

He stiffened as if she'd jabbed him with a knife.  "You…what?"

"Wouldn't you like to join me?"

"You're at the next hotel?"

"Yes."

He wanted to shout at her, wanted to ask how she'd found the gall to chase after him, but where she was concerned, he couldn't temper his behavior.  She was like a disease in his blood, one that was spurred on by the Viagra he'd recently begun taking.

He felt sixteen again and constantly ready to screw like a maniac.

"You could come over, Don."  Her voice was cajoling.  "You could be with me in a few minutes."

"Linda's here, Chelsea, and I shouldn't—"

"I'm wearing that red lipstick you like."

Careening from excitement to dread, he hemmed and hawed.

Why not, why not? a devilish imp taunted.  What could it hurt?

Linda and Nicole believed he'd gone to check on Matt.  They wouldn't expect him to trot back to the villa like a puppy on a leash.

"A half hour, Chelsea," he hissed, "and that's it."

"We can do plenty in half an hour, you know?"

She clicked off her phone, and when he should have turned right toward the lobby, he made a left instead, headed for the beach and the quickest path to her room.

*          *          *          *