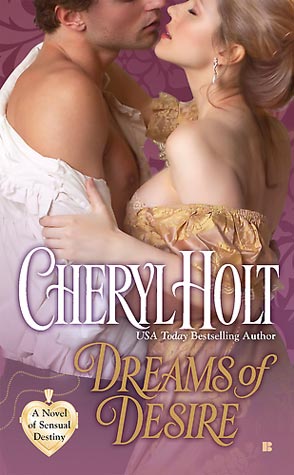 CHERYL HOLT, the Queen of Erotic Romance, delivers the third novel in her breathtaking new trilogy in which an innocent lady's companion — after drinking a magical potion — is swept into a dangerous relationship of decadent desire…
Every instinct is telling Lily Lambert to run from Penworth Hall as fast as she can, but there is something about handsome, daunting John Middleton, Earl of Penworth, that keeps her in his employ. It certainly isn't his twin wards, evil little vixens who will do anything in their power to have Lily fired as their chaperone.
And the love potion isn't helping.
Lily bought it in desperation, hoping to marry so she could escape her lot in life as governess and companion to the spoiled offspring of the nobility. On a voyage to John's Scottish estate, Lily sips the potion while gazing at the ship's captain, only to come face-to-face with John, who seems to be instantly smitten. Now, in the locked rooms and dark alcoves of his Scottish castle, John traps Lily in moment of impropriety, bringing a flush to her fair cheeks and igniting an indecent longing in her body. Only time will tell if the potion's impossible promise will ruin Lily — or set her free…
Praise for Cheryl Holt's novels
"Sexy and wild!" — Book Cove Reviews
"Hot, fiery passion drips from every page." — Fresh Fiction
"HOT… SENSUAL… Laughter and passion merge in the delectable conclusion to the Spinster's Curse trilogy. Holt brings back the incorrigible Phillip Dubois (aka Dudley) and introduces a lively cast of characters to play out the tale of an arrogant earl, his wards' companion, his friends and family to delight readers and tap into their fantasies. — Kathe Robin, Romantic Times BOOK Reviews
"HOT… SENSUAL… Laughter and passion merge in the delectable conclusion to the Spinster's Curse trilogy. Holt brings back the incorrigible Phillip Dubois (aka Dudley) and introduces a lively cast of characters to play out the tale of an arrogant earl, his wards' companion, his friends and family to delight readers and tap into their fantasies. — Kathe Robin, Romantic Times BOOK Reviews